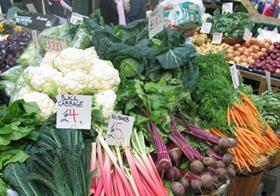 Vegetables such as cabbage, onions and leeks are enjoying something of a renaissance in UK kitchens as locked-down Brits return to scratch cooking.
In a joint statement released today (9 February), the British Onions Producers Association and UK Brassica Growers Association said they have experienced soaring sales of onions and brassicas during lockdown, and cite retail reports of a 25 per cent rise in year-on-year sales of onions.
Commenting on the growth in onion consumption, Tim Elcome, chairman of the British Onions Producers Association said: "With many more people inevitably cooking at home, the humble onion is proving ever popular."
But increased demand coupled with an unpredictable growing season means that stocks of UK onions are somewhat lower than normal, he added. This may result in a tightening of UK stocks and an increased import window next spring and early summer.
Brassica growers have experienced a similar situation with higher-than-usual sales across the full range of brassicas, as consumers look for new things to cook at home."This has been a great opportunity for people to re-discover the benefits of seasonal homegrown produce," said Richard Mowbray, chairman of the UK Brassica Growers Association.
Mowbray went on to point out that the spell of very cold weather over the Christmas period has affected some yields, and supplies have been affected. Imports from Spain have also been affected due to heavy snow caused by Storm Filomena. As a result of this unprecedented demand, UK brassica supplies will be tight for the remainder of the winter period, with some varieties finishing earlier than normal and sales outstripping supply.
Stewart Aspinall chairman of the Leek Growers Association has observed the same trend with leek consumption. "Consumers spending more time eating at home and cooking from scratch has created greater demand for British leeks, with many trying the vegetable for the first time and enjoying its taste and versatility."
But as with onions and brassicas, this unexpected growth in demand, coupled with a harsh spring in 2020, means that there is likely to be a shortfall by April, with supply ending earlier than normal and retailers will have to look at importing continental leeks to fill the void.
Jack Ward, British Growers, said: "It's great to see this surge in demand. We know as a nation we don't have enough veg in our diet and while part of the success is attributable to lockdown, there is a growing interest in healthy eating and seasonal produce. The UK had a proud tradition of producing seasonal veg throughout the year and the increased consumption has brought a welcome counter to the problems of coping with the Covid pandemic."