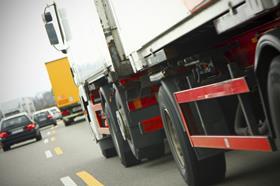 The logistics industry needs government support in the spring Budget to ensure the continued health of Britain's supply chains.
That was the message of an open letter from Logistics UK chief executive David Wells to Rishi Sunak, urging the Chancellor to implement a series of measures to strengthen Britain's logistics firms amid mounting pressures exacerbated by the pandemic.
As well as holding fuel duties at present levels and incentivising low-carbon alternatives, Wells has called for Sunak to facilitate access to employment through interest-free loans or grants to aid training. The logistics sector is currently facing a shortage of skilled workers in operational roles such as HGV drivers.
"Our sector supports every area of the UK's economy, but has been struggling for some time to fill vacancies," Wells said. "The loss of EU workers after Brexit has had a significant impact and our member organisations cannot find staff with the right skills, qualifications and experience.
"The apprenticeships system is useful but cannot deliver at the scale or speed required and needs reform. The government has already pledged to test new working patterns for apprenticeships in the last Spending Review and now needs to accelerate this work.
"With HGV driver training typically costing around £7,000 per person, grants or interest-free loans should be provided to train and reskill new employees, increasing the pool of available workers to fill the skills gaps in our sector."
The letter, which has also been sent to representatives across business and industry in the House of Commons, also presses the importance of fuel duty to be held at present levels, together with added incentives to switch to alternative fuels.
"Our members support moves to cleaner, lower carbon fuels but the industry needs time for any changes to be implemented," said Wells. "Fuel duty is a direct cost to business: we estimate that a one penny increase per litre of fuel would add £470 per annum to the cost of running one truck. And with current limited availability of alternatively fuelled vehicles meaning diesel is the only option for the majority, this would be a direct tax on our industry as it commits to deliver for Britain."
He added: "At a time when our industry is still reeling from the impact of the economic downturn caused by Covid-19, increasing fuel duty would either reduce or eliminate business profit margins (already two per cent or less in our sector) or be passed on to the customer, which in turn would increase the cost of doing business in the UK.
"In addition to freezing fuel duty for another year, a reduction in duty on alternative fuels would drive faster uptake for lower emission vehicles and help the industry switch away from diesel, thus furthering the government's clean air agenda."
Wells' letter concluded with a call for further infrastructure investment, designed to support transfer of freight between transport modes, as well as prioritising investment in a charging infrastructure which will help speed adoption of electric vehicles nationwide.