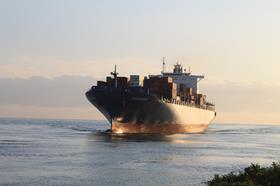 The logistics industry has welcomed news of an extension to the grace period covering agri-food products being shipped to Northern Ireland.
The UK government announced this week that the grace period covering sanitary and phytosanitary goods moving from Britain to Northern Ireland, due to expire on 31 March, will now be extended to October. The unilateral decision has caused friction with the EU, which described it as 'a violation of the relevant substantive provisions' of the Northern Ireland Protocol.
There have been a number of delays at the Northern Irish border in the early post-Brexit era, with empty shelves reported in supermarkets in the region and retailers warning of significant problems to come.
The UK's Lord Frost, who recently took up the role of minister co-chairing the Partnership Council and the Withdrawal Agreement Joint Committee with the EU, spoke to EC vice president Maroš šefčovič this week to try to cool the simmering tensions. He stressed that progress needed to be made in addressing the impact of the Protocol on Northern Irish citizens, adding that the move represented a temporary technical step to provide more time for supermarkets and other businesses to adapt to and implement the new rules.
The developments have gone down well with transport operators, according to Seamus Leheny, Logistics UK's policy manager for Northern Ireland: "Extending the current grace periods for the movement of SPS goods from Great Britain to Northern Ireland is vital to protect supply chains; we are pleased the government listened to the advice we shared with Michael Gove and Maroš šefčovič at a recent roundtable meeting,' he said.
'Today's decision will ensure logistics businesses in the agri-food sector will not face significant administrative burden come 1 April 2021 and will allow time to plan and deliver a permanent scheme that will reduce friction on SPS goods, such as a Trusted Trader Scheme. And, with this being unilateral action, Logistics UK is urging the UK and EU to work together on a solution that protects NI's supply chains in the long term.'