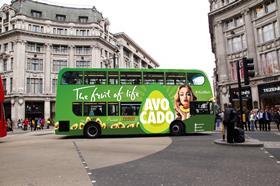 Avos are everywhere at the moment, it seems: in cafes, restaurants, household kitchens, beauty products, and even on the road.
As part of the first ever pan-European marketing campaign to drive awareness of the superfood The World Avocado Organization (WAO) has decked out London buses and black cabs with its Avocado Fruit of Life brand.
From mid-July, the avocado-green vehicles will be emblazoned with the #AvoBus and #AvoCab hashtags, encouraging passengers to share photos of their 'avo travels' on social media for the chance to win gift cards and a 'summer's supply of avocados'.
The stunt follows the launch of the Europe-wide campaign for avocados, which includes partnerships with Costco and Tesco in the UK; Carrefour, Monoprix, Lidl and Costco in France; Edeka in Germany; Bama in Norway; ICA in Sweden; and Costco in Iceland.
In addition, the WAO has launched dedicated social media channels for the superfood on Facebook, Instagram, Twitter, YouTube, and Pinterest in English, French and German, as well as a free-to-downloade-cookbookfor avocado dish inspiration.
The non-profit organisation was launched last year by Peru, South Africa, Mexico and California-origin suppliers in a bid to further educate consumers about the fruit.
Xavier Equihua, CEO of the WAO, commented: "The UK has experienced an avocado craze in recent years and demand for them is growing on a daily basis. In 2016, Europeans ate more than 400 million kilos of avocados in 2016 and by 2017 we expect to see this increase to a whopping 480 million kilos – a 20 per cent percent increase in just 12 months.
"We expect 2018 to be even greater with pan-European consumption growing to upwards of 500 million kilos. We want to fuel this demand and respond to UK consumers' curiosity to learn more about the avocado's versatility.
"I expect avocado demand to further grow by double digits in the UK and other European countries."