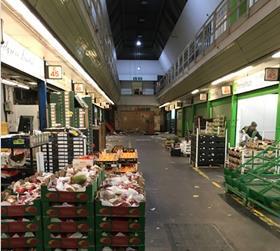 London wholesale markets have said they will continue to follow government advice on the Covid-19 coronavirus pandemic, as numerous public spaces across the capital closed their doors last night.
Despite traders beginning to suffer from a drop in footfall, London wholesale markets remain open in order to provide the capital with essential fruit and vegetables for restaurants and grocery businesses.
Market authorities have also rejected any concerns that they could close in the event of traders testing positive for the virus, with no such plan in place from councils or management, and no suggestion from Public Health England to do so.
Daniel Tomkinson, CEO of New Covent Market Market Authority said: "New Covent Garden Market plays a vital role in the supply of fresh fruit, vegetables and flowers across London and far beyond. We remain open for business and during these challenging times we will continue to feed and flower London, as demand requires.
"We have a robust business continuity plan and are closely following Government and Public Health England guidelines".
"We are working closely with our traders and the tenants association to ensure we put the right response in place to keep the market safe for our customers."
Owners of New Spitalfields market, The City of London Corporation, stated: "Our advice is to follow NHS and Public Health England guidance on Covid-19, which includes the Foreign and Commonwealth Office's travel information."
Chairman of New Spitalfields' Tenants Association Paul Walker said traders at the market have received letters from the corporation advising traders to self-isolate if they display any symptoms, in keeping with national guidance.
Walker said the effects of the European lockdown may just be starting to bite for traders. "It's only really this week, and Friday last week that we noticed some companies were struggling to get lorries to come through."
He added the main concern was how production in Europe could be affected. He said prices have already begun to "skyrocket" on some products. "I haven't found it hard to find product. I have been on the phone early, but people who call later on could find it more difficult."
Borough Market stated it has introduced a raft of measures to ensure trading continues during the pandemic period.
Community areas have been re-designated and public events cancelled so inter-personnel contact can be kept to a minimum, while allowing traders to meet demand for quality food and produce.
The market's managing director Darren Henaghan said: "We have taken steps to shift the nature of the Market from a place of congregation and engagement to one in which contact is kept to a minimum.
"The place is quiet – disconcertingly so for anyone used to the usual throng – meaning that unnecessary contact can be easily avoided."
The market has setup extra hand-washing stations for both customers and traders, removed communal seating, with on-site staffing reduced due to non-frontline staff working from home.
A delivery and collection service, Borough Market Online, is offering an alternative way for customers to access Market produce. Strict hygiene practices mean that the food is securely packaged, and the option of a doorstep-drop service allows it to be received without contact with couriers.
Henaghan added: "The Market's offering is quite different to what is available from supermarkets and we aim to remain a haven for food lovers while supporting our small, independent businesses.
"Borough Market has served this community for a thousand years, through thick and thin. It has survived wars. It has lived through food shortages and curfews. As recently as 2017, our community withstood the trauma of a terrorist attack and the subsequent weeks of closure. It did so by remaining close and supportive, by caring about people—and that's how we'll get through this crisis too."