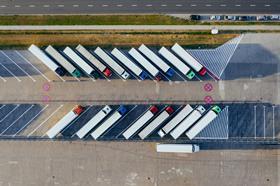 The decision by ministers towithdraw powers from Kent County Councilto clampHGVs parkedin laybysacross the county has been welcomed by the logistics sector.
Trade body Logistics UK said the move by the Department for Transport was "great news for all those hardworking drivers who keep the country stocked with everything we need".
"Lorry drivers, who were deemed 'essential' during the pandemic,mustbe able to taketheir legally requiredrests during the daywithout fear of prohibitions," said Logistics UK's policy manager for theSouth East, Heidi Skinner.
"While the existing shortage of between 1,000 and 1,200 HGVparking spaces in Kent continues, laybys are often the only option for those seeking somewhere to stop."
Trade union Unite said services and lorry parks in Kent have become 'chronically overcrowded', with fights breaking out between drivers in extreme cases.
Logistics UKwrote to DfT's under-secretary Rachel Maclean in Juneto express its strong objectionstoKent County Council's (KCC) powers toclamplorriesparkingin laybys for more than 45 minutes at a time across several areas of Kent.
She added that the creation of new HGV parking areas must now be a priority. "The shortage of appropriate spaces is a problem which has been highlighted to government for several years now,without any significant action being taken.
"TheDover Straitsissuch a key link in the UK's supplychainandit is imperative that those using theroute can do so safely, without having to put their health or their loads at risk while in transit."

Clamping powers removed
KCC was initially given the authority to clamp and fine parked trucks over five tonnes in restricted zones across seven districts and boroughs from 1 January for six months.

The council said the measure was designed to 'help tackle the escalating issue of unlawfully parked lorries on routes to Channel ports' and supportedKent Resilience Forum's (KRF's) traffic plan to reduce anticipated EU transition-related disruption.
KCC requested a further six-month extension, while separately consulting on making the temporary powers permanent.This six-month call for views closes on 3 July.
But following the Department for Transport's (DfT) decision, the 24/7 restrictions across Ashford, Canterbury, Dover, Folkestone & Hythe, Maidstone, Swale and Thanet came to an end a midnight on 30 June.

KCC 'disappointed' by decision
Simon Jones, KCC's interim corporate director, and director of highways, said: "Having the ability to take action against illegally parked trucks has helped keep our roads moving, protected our local communities and played a significant role in the Kent Resilience Forum's operational response as Kent, and the UK, adjusts to life outside of the EU.
"We have targeted those areas where unlawful lorry parking causes the biggest problems and we have received positive feedback from many residents and businesses.
"The KRF also recognised the ban would help reduce the risk of disruption in the face of new pressures, such as the expected return of tourist traffic, to Kent's roads over the coming months.
"In light of this, while we welcome the roads' minister's commitment to consider future localised restrictions and use of emergency powers in the event of border issues due to customs changes in the new year, it is disappointing not to have our current broader temporary enforcement powers extended."
Kent County Council said it was also continuing to discuss with DfT, districts and boroughs, the 'long-term issue of lorry parking in Kent', urging that solutions be found outside of the county.