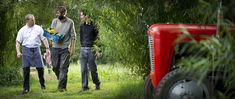 A nascent organic co-operative in the Manchester area has won new business supplying the University of Manchester.
Supported by charity Sustain and the sustainability group Kindling Trust, Manchester Veg People (MVP) is providing leafy salads, brassicas and potatoes for restaurants at the institution.
Producers' holdings range in size from 2.5 acres on an urban housing estate to 150 acres. There are five producers in the co-op based in Greater Manchester, on the Lancashire-Greater Manchester border and Cheshire.
The co-op's Chris Hewitt said: "We are a small group of organic growers… But our aims and ambitions are the same in that we want to supply quality, fresh fruit and vegetables to shops, restaurants and delicatessens across Manchester."
MVP carried out a trial supplying one of the restaurants at the university in the summer term.
"Now they are keen for us to supply more of their restaurants and we are working closely with the catering manager and chefs to try to tailor our growing to their requirements," said Hewitt.