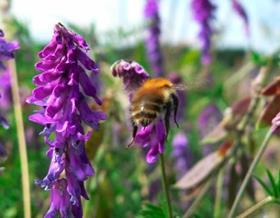 British conservationists have criticised Marks & Spencer's latest efforts to "do good for the environment" and release 30 million honeybees into the British countryside, warning the initiative could disrupt ecosystems.
The UK retailer this month placed up to 1,000 beehives on 25 farms to produce single-estate honey for customers as part of its five-year Farming with Nature programme designed to boost sustainable agricultural practices.
But, writes The Guardian, the announcement has been met with dismay by some bee experts and conservationists. "Such and [sic] opportunity missed M&S, this is greenwashing or beewashing at its most blatant," tweeted Gill Perkins, chief executive of the Bumblebee Conservation Trust.
Critics say M&S should focus on restoring native habitats instead of releasing millions of honeybees, which can change habitats because they only pollinate certain types of plant.
"They are actually ending up doing something that may damage the environment," Matt Shardlow, head of the conservation charity Buglife, told The Guardian.
M&S said releasing honeybees was just one element of its five-year Farming with Nature programme, which it expected to boost pollinator biodiversity.
"It is designed to help our Select Farmers become more resilient to the biggest environmental challenges they face and champion the uptake of nature-friendly farming practices," an M&S spokesperson said.
"We are committed to sustainable farming that safeguards wild pollinators, including bumblebees and solitary bees, so we have placed our honeybee hives in very carefully selected areas, in small groups and more than two miles apart to avoid over-populating a particular area. None of our honeybees are imported."
Earlier this month, the retailer announced the launch of its biggest ever TV and multimedia customer campaign showcasing the lengths its Select Farm partners go to deliver exceptional quality M&S food.
A total of 19 TV ads will be aired on ITV, Channel Four and You Tube during the four-month campaign, in which M&S will introduce viewers to a different farmer who will talk about their products. Asparagus grower Chris Chinn of Cobrey Farms is one of the retailer's Select Farm producers featured in the campaign.