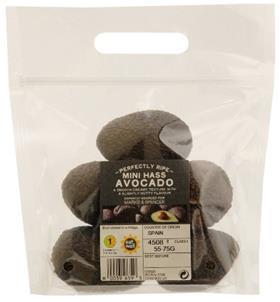 Premium retailer Marks and Spencer has become the first retailer to stock mini Hass avocados and is marketing them as 'perfect for portion control and snacking'.
The baby fruit, which are around half the size of a regular avocado and weigh 60g, were once rejected for sale for being too small, M&S said.
Grown just outside Malaga, Spain, they will be sold in packs of five retailing at £2 and will be on shelves from January until April. The baby avocados join other minis already on sale including figs, bananas and kiwis at the retailer. The flavour is more concentrated in the smaller avocados, and they are described as 'rich, sweet and creamy'.
The new listing comes as M&S avocado sales rose 18 per cent last year, totalling more than 11.5 million units.
Sally Sharp, M&S produce expert, said: "We're excited to add the mini avocado to our ever-growing collection of baby fruits. Its smaller size makes it ever tastier than a normal avocado with a deliciously creamy texture. They are great for snacking or adding to salads as they can simply be cut in half rather than sliced.
"Experts advise a serving of half an avocado a day so these minis offer the ideal portion size without leaving half the fruit exposed to the air which can quickly go brown."
Reportedly the most photographed fruit on Instagram during the last year, avocados have also been promoted by chefs including Nigella Lawson.
Recent innovation in the category has included Tesco launching frozen avocado slices, and a new eating implement – dubbed the AvoShark.