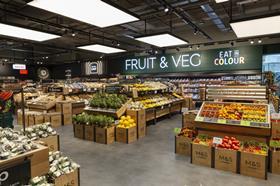 M&S has launched an expansive range of its food products on worldwide export platform British Corner Shop, enabling customers in over 150 countries to buy M&S lines for the first time.
The range is made up of over 800 M&S products, with many UK family favourites now available for international customers to purchase.
Through British Corner Shop's export platform, customers from the US to Australia will be able to purchase a tailored M&S food range for the first time and have it at their door in one to three days. British Corner Shop is the leading international exporter of British food products with a global customer base who shop the site's range of over 6,000 household brands.
With travel restrictions in place over the last 18 months, the platform has experienced a surge in demand for its products, and the launch of M&S is expected to drive this further.
The launch is part of M&S' commitment to accelerating international growth through online channels and follows its recent expansion of flagship websites. In May the retailer committed to more than doubling online retail sales by working with partners and expanding the reach of M&S to new online markets for the first time, as increasing numbers of customers globally turn to digital shopping channels.
By partnering with British Corner Shop, which saw over 140 per cent growth between March 2020 and 2021, M&S said it is able to rapidly roll out a wide range of its favourite food products without significant upfront investment.
Paul Friston, managing director of international at M&S, said: "Our mission is to deliver efficient and low-cost ways to sell the best of M&S to the world, and by partnering with British Corner Shop we're able to instantly offer the best of M&S food to millions more customers. We're always getting asked when our fantastic food range is going to be rolled out to new markets, so I'm delighted that from today we're able to offer an expansive and delicious range of hero products customers love as well as the latest M&S innovations to over 150 new countries."