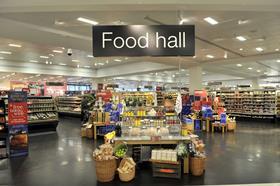 M&S has kicked off its Christmas campaign with a TV advert that showcases some of its festive new product lines.
Theadvertis set in a Christmas market with each of the stalls hosted by an M&S product developer, and viewers are led through the market by M&S Food Celebrity Panel Members, Paddy McGuinness and Emma Willis.
They wander through the festive scene, sampling seasonal products and mingling with 125 real M&S customers and bumping into fellow panel members Amanda Holden and Rochelle Humes.
Products enjoyed by celebrity tasters include The Perfect Turkey, Torched Winter Berry Pavlova, and M&S Collection Mince Pies. In total, the team has created over 170 new product lines for Christmas.
The atmosphere is set by the award-winning choir from Ysgol Gynradd Llwyncelyn primary school in Wales, who shot to fame after winningSongs of PraiseChoir of the Year in 2018. They sing a special arrangement of Fleetwood Mac's Albatross, the tune behind the M&S 'This is not just any' campaign.
Following coaching from Justin and Dan Hawkins of The Darkness fame, the choir's festive makeover of Albatross will be heard over 350,000 times in stores across the UK with a further 12 million people viewing the advert over the festive period.
To celebrate the contribution of the choir, the premiere of the advert took place at the choir's primary school in Wales.
The full 90-second version launched on 7 November, with a broadcast duringThis Morning.
The wider campaign includes integrated advertising campaign across TV, print, radio and social media, and will expand M&S' reach to more customers than in any previous Christmas.
The M&S Christmas food range will include fresh produce such as the M&S Collection 12 Mushroom Steamed Buns.