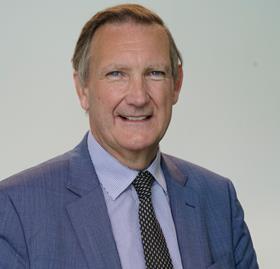 Few food markets in the world boast a name and mystique comparable to Covent Garden Market. Stretching back hundreds of years with a legacy of family firms still trading today, the breadbasket of London remains a significant provider of fruit and vegetables eaten outside of homes today.
It's a prestige new chairman of the Covent Garden Market Authority, David Frankish, couldn't resist when offered the role in January and he follows big footsteps in the outgoing Pam Alexander, who chaired the Authority for six years.
In many ways Frankish takes over in the best of times and the worst of times, as the exciting new market development transforms the Vauxhall area, but legal disputes over the market's design between traders and the Authority rumble on.
"The local councils have a vision that this could become a major food hub, not just a major food market, but also in terms of restaurants, teaching chefs, having new food manufacturers. If you take a longer-term holistic view of the area and the vision that we're looking to realise, it's a fantastic thing to be part of, and that's what attracted me to come here," he reflects.
Frankish's qualities as a businessman are evident in his past success as managing director of NFT Distribution, but he places greater emphasis on the personal side of business, which he sees as crucial to his new role.
"My view of business is there are two general areas: one is an understanding of finance, and the other is an understanding of people. You can understand finance with training, but an understanding of people, that comes from experience, being open-minded, and caring enough to try to want to understand them."
Frankish comes to the role with plenty of experience in the food industry, having started his career as a junior accountant for logistics leaders NFT Distribution in 1985, quickly rising up the ranks to become managing director of the business in 1995. He led the company through two management buyouts, before stepping down from leadership in 2017, with the company turning over £220 million. He also currently chairs the CBI's employment and skills board.
His personable qualities, however, are evident in his desire to immerse himself in his new surroundings. Most impressive are his occasional 24-hour shifts on the market site, working as chairman during the day before doing a whole nightshift to learn from traders the nuanced ways of the market.
"I do that once a month with Daniel Tomkinson (CEO of CGMA). That's one of the ways we see the people and understand their issues," he says.
His experience in the food industry is something that puts him in prime position to take on the chairmanship at CGMA, especially when you consider the rapidly growing importance of logistics, which has become a core part of more supply-orientated businesses at New Covent Garden.
"There's actually more distributors at the market now. Historically the marketplace is where you have a buyers' walk, where there would have been lots of trade happening, and we still do have a buyers' walk… but the market has moved on and a lot of the sales have moved to the telephone or computer. You're getting less and less physical presence of buyers and more of it on the phone. Major traders here are trading with the wholesalers who then distribute to their customers such as restaurants, schools, or even the London Zoo."
His background and leadership skills will be much needed to make progress in the ongoing standoff between traders and authorities over the market's redevelopment. A lawsuit was launched last year by the New Covent Garden Market Tenants' Association, who fear the new development will negatively impact their businesses, claiming that they were inadequately consulted. Traffic flows are a key concern in the dispute.
"I wouldn't be here if I didn't think there is a positive outcome to all this," Frankish says. "I know there are difficulties and I don't underestimate those difficulties, but ultimately the way we get to the successful conclusion which is great for the traders, the people of London, the CGMA and government is by working together to solve those problems and taking it away from litigation. You have got to build trust to be able to do that."
Frankish sees grounds for optimism, saying "small steps" have already been made towards a resolution since he has joined. Naturally he is keen to reach a solution outside of a costly court process.
"I have great regard for the traders here, I respect them as traders and they are very good businessmen and therefore they are bound to be good negotiators. But ultimately we will find a common ground that allows us to work together and over the last six months we have made small steps and I hope that will continue.
"Up to now they haven't been able to show me anything that makes me think there's a major issue here. It really is for the tenants to prove that what we're building won't work. I don't think that they have a cogent case there, but anything that they bring that we should address, we will."
The dispute is not the only challenge facing the market. As Brexit looms, Frankish says the authorities will be doing all they can to assist and support the traders through any difficulties it poses. Chief among them could be transport delays, which will hit the supply and freshness of produce.
Frankish's experience in logistics gives him a good insight into how a no-deal could play out, but he notes that traders at the market have expressed confidence that a no-deal won't stop slow the flow of produce from Europe reaching London.
"What happens one minute to midnight on 31 October compared to one minute past midnight on November 1, nothing changes. You have got a bit of a transition period where things will flow for a while. It's impossible for a guillotine to come down at midnight on 31 October, but there is a timetable when bureaucracy comes in."
He shares traders' positivity too that solutions can be found, suggesting customs schemes that check goods inland beyond ports are a good idea to keep produce flowing; "it would reduce congestion at the ports, and we looked into it and discovered we could do that here," he adds.
It's a can-do attitude that no doubt will stand Frankish in good stead at the market for his three-year period as chairman. He leads the board during perhaps its most crucial phase since moving from the original site in 1974, and with the right decisions, the market's brimming potential can be unlocked to deliver a cornerstone in the global food industry.
"It isn't a pipedream to think this could become an international food hub. It will certainly be the major food hub in London and therefore the UK, possibly Europe."