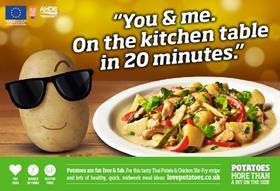 AHDB is cranking up its consumer marketing campaign in the hope of shifting a growing potato mountain held in stores.
Potato stocks held by growers at the end of March totalled 1.19 million tonnes, according to AHDB estimates. That is20 per cent higher than the same point last season and five per cent above the five-year average. Drawdown, the rate at which potatoes are delivered from store, was two per cent down on average between January and March.
David Eudall, head of arable market specialists at AHDB, said: "These figures are from the end of March, so they only include one week of the 'lockdown effect'. But the big impact on the sector has been the way the coronavirus pandemic has changed consumer demand.
"From 23 March, the industry saw wholesale closures of fish and chip shops and other foodservice outlets. There are reports of some chip shops reopening across Great Britain, but sales are likely to be significantly reduced."
There has been some better news for growers, with sales of fresh and frozen potatoes in supermarkets rising 28 per cent in March, but AHDB Potatoes strategy director Rob Clayton pointed out that the specialist nature of the potatoes used for each part of the market meant some growers could suffer large financial losses.
"With one or two exceptions, a different set of varieties is used to make chips in restaurants from the ones consumers are used to seeing on supermarket shelves," he explained. "If you've got a shed full of potatoes that were meant for making French fries, you might currently be unsure whether a year's worth of work to grow and store them will amount to anything – it's a stressful situation.
"The wider industry has been meeting to work through what can be done at pace, we hear that supermarkets are taste testing different varieties for example. But this will only apply to a small proportion of what's in stock."
To help tackle the situation, AHDB has released plans for an extended consumer marketing campaign, and a portal to help put the growers and wholesale buyers of potatoes in touch.
"Ourlovepotatoes.co.ukwebsite has been sharing recipes and 'how-to' tips with consumers since 2015. In that time we'vehad over five million likes and shares over social media channels, and seven million page visits. And we can see that ramping up recently, with a 54 per cent daily increase since the start of March," said Nicola Dodd, marketing manager at AHDB.
"A recent post on how to store potatoes at home was liked and shared over 10,000 times on Facebook and Instagram as people looked at ways of keeping lockdown stockpiles fresh. Our campaign is based on reminding consumers of the versatility and value of potatoes, and how they can be incorporated in many dishes, both traditional and contemporary."
AHDB is increasing consumer marketing activity for the year ahead, with a lockdown boost through social media, advertising, promotion via catch-up TV and activity within retail outlets.
A trade portal will also be launched this week where wholesale potato buyers and merchants can post requirements for potatoes, and growers can post available stocks.
"The supply and demand profile of our normally well-established market is changing very fast," said Clayton. "With one part using stocks quicker than normal, and one with a surplus, the portal should help ensure consumers are able to find top-quality potatoes, which is what we all want."