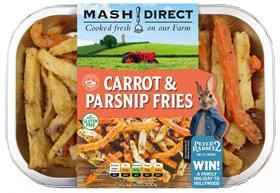 Mash Direct lines will feature Peter Rabbit after the prepared produce brand agreed a tieup with Sony Pictures ahead of the launch of the popular character's new film in March.
A range of daily prizes, including a trip to Hollywood, will be up for grabs on a wide range of Mash Direct's veg-based products, including Mashed Potato, Parsnip & Turnip, Bubble & Squeak, Green Cabbage and Potato Rosti.
The products feature special Peter Rabbit 2 branding, with the hope that the tieup will help consumption of healthy products among children and families.
The deal is the second to be announced this week between a fresh produce company and Peter Rabbit 2, following G's tieup on the Fresh & Naked brand.
Mash Direct's on-pack promotion will run in supermarkets until 3 April, with consumers needing to visit the supplier's website and enter a promotional code to be in with a chance of winning a prize.
Chief operations officer Jack Hamilton said: "We are excited to be partnering with Sony Pictures again for the launch of Peter Rabbit 2 in the UK. Peter Rabbit is one of the most iconic characters who loves vegetables and we hope this collaboration encourages more families to incorporate delicious and high-quality veg in their daily diet."
Barbara Murphy, head of distribution in Ireland at Sony Pictures, said: "We are delighted to team up with Mash Direct again ahead of the release of the much anticipated Peter Rabbit 2 this Spring. Peter Rabbit is renowned for getting up to mischief, but is also synonymous with fresh field vegetables! The on-pack promotion is the perfect way to engage families and encourage healthy eating whilst giving them the chance to win prizes in connection with one of our most lovable characters."