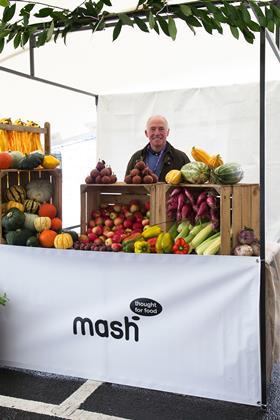 Wholesaler Mash Purveyors has hosted a one-day mini festival to promote a new range with partner company Oakleaf and showcase suppliers.
Around 14 growers and suppliers exhibited produce at the farmers' market style-event, including micro produce grower Nurtured in Norfolk, Secrett's Farm and Isle of Wight Tomatoes.
It was attended by the company's chef customers, who were entertained by a live band. Food was provided on the day by Breddos Tacos, Burgerbear and a resident BBQ chef, with craft beer from Crate Brewery and cocktails from the Mash cocktail bar.
"It's primarily a celebration a year of hard work and all the exciting projects we've been involved with including a film, a festival, some pop-ups, sponsoring some of our clients' charity projects etc, but it's also an opportunity to introduce our customers to a whole new range of products that we now supply through our partner company Oakleaf," said Mash marketing executive, Finnian Casey.
"The event went really well. There was a great turnout, great crowd of chefs, old and young. Everybody had a good mingle while making full use of the open bars and street food. The farmers market attracted a lot of attention from eager chefs, which was great for both parties to share perspectives.'