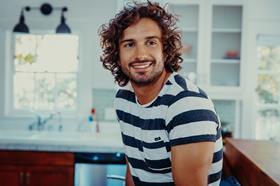 From a background in personal training, what prompted your move into healthy eating and food writing?
Joe Wicks: I started posting 'Lean in 15' videos in 2014. At first I was literally posting to no followers, but slowly it started growing so I kept at it, posting three meals a day, replying to everyone who left comments and the next thing I knew I had 42,000 followers and book publishers started showing interest. Three years later, I've had five cookbooks, two DVDs, a TV show and launched my mission to get daily fitness into schools. It's been a whirlwind but I've loved every minute of it.
What demographic is your fan base and what are they trying to achieve?
JW: I've got a really mixed demographic, all ages and genders and abilities. There are people who have exercised for years and people who are in their 50s and never exercised before. There's so much free content on the thebodycoach.com and there's something for every single level of exercise ability. When it comes to my recipes, each of my books have over 100 recipes, from burgers to curries to pies to big family lunches, so I like to think there really is something for everyone.
How important are influencers such as yourself in changing diets, in your opinion?
JW: I can only comment on what I'm doing and I know that my ethos about ditching diets and eating proper food and exercising for 15 minutes four to five times a week can make you not only lean, but also feel amazing, energised and focused.
How important is social media in food and healthy eating, in your opinion?
JW: I wouldn't be where I am today without social media – it's what got me here and I'm always on my channels. You'll see all my highs and lows.
What do you think is fuelling Britain's obesity crisis?
JW: I think there are lots of factors. Kids at school aren't doing enough exercise, I think you've got to start kids young and the focus of exercise should be about how it makes you feel – it should be enjoyable, give you a buzz and help you focus. I get asked questions about food every day and there's a knowledge gap when it comes to what good food and nutrition is. I hope that I have made nutrition a bit easier to understand. That's been one of my successes.
How far do you follow your own diet and training advice?
JW: I always practise what I preach, I exercise five times a week and I eat three meals a day. That doesn't mean that I don't go out for lovely meals occasionally – anyone who follows me on socials will know how much I love a burger!
What does your typical day involve?
JW: I get up between six and seven, usually do a HIIT (high-intensity interval training) workout at home or at my offices. Then I'll make myself a breakfast, after that I don't really have a typical day. I could be at a meeting with my publisher, writing my book, filming content, working at Body Coach headquarters with my team or doing media interviews. The only given is that I'll always be on my socials Instagramming my way through each day. I go to bed between 10-11pm.
What do you do in your spare time?
JW: Family and friends mean everything to me, so spending time with them is always a priority. I love going on bike rides, going out for nice meals, just normal stuff really.
You've previously talked about your upbringing and having a limited choice of healthy food. How can healthy food be made more accessible to lower-income families? What needs to be done to help improve health for this demographic?
JW: I think there's been so much conflicting advice over the years and I think that's why Lean in 15 and The Fat-Loss Plan has been so successful because it's so easy to follow. When you cook meals from scratch, you can batch cook – so for example a big Thai green curry can last two to three days. When you add that up, that's a lot cheaper than buying individual lunches and dinners.
Who do you most admire in terms of celebrities who endorse healthy eating or other successful food writers?
JW: Loads of people influence me, it doesn't have to be a celebrity, it could be someone who gets in touch with me on socials or someone on a podcast I listen to. I like following The Rock, he's always training no matter what, even if he's jetlagged he's still there at 4am doing a workout – so impressive.
What's your favourite and least favourite fruit or vegetable?
JW: Gotta love a midget tree! I love them. I really love sprouts too, not the squishy boiled kind, but when you chop them up and fry them with bit of bacon. Unbelievable!
Joe Wicks'Lean in 15 Workouts(DVD and digital download) and The Fat-Loss Plan are out now.