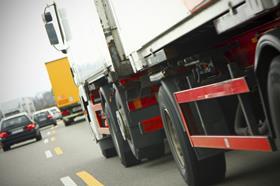 Unite has accused ministers and company bosses of 'dragging their feet' over the HGV driver crisis and stressed the threat of industrial action is growing.
The trade union said government and haulage bosses need to sit down with it to tackle the underlying causes of the crisis that has resulted in gaps appearing on supermarket shelves across the country, and threatened that industrial action remains on the table.
With the Road Haulage Association (RHA) estimating the shortage of HGV drivers at 100,000, Unite accused employers and government of doing nothing to deal with what it called 'a brazen lack of respect' towards drivers as they tried to squeeze 'the last drop of profit' from their contracts.
Unite said a number of factors have contributed to the HGV driver shortage, including an ageing workforce who are retiring, the effect of the 'pingdemic', the backlog in tests for new entrants due to Covid restrictions, and EU drivers who returned home during the pandemic, but are now deterred from returning to the UK due to Brexit bureaucracy.
Unite national officer for road transport Adrian Jones said: "We call on ministers and employers to stop dragging their feet and sit down with Unite to chart a way forward, otherwise the present-day problems of gaps on supermarket shelves will just get worse.
"It is becoming clearer by the day that we are facing a serious HGV driver shortage across the UK - 'a perfect storm' in the worst possible way. Already gaps are appearing on supermarket shelves, and logistics and hauliers' organisations are warning August will be a pinch point regarding the shortage of drivers as workers take summer breaks.
"The current shortage of an estimated 100,000 HGV drivers in the UK has highlighted a number of long-running serious discontents in the industry, from poor pay and conditions to inadequate toilet provision and lack of parking facilities. It is clear that the UK's HGV drivers have been taken for granted for too long by bosses keen to squeeze the last drop of profit from their contracts – this brazen lack of respect for the workforce is now coming home to roost with mounting calls for industrial action.
"We have been campaigning for some considerable time to have a constructive dialogue with ministers and the employers to get to the root of the problems afflicting the industry. Unfortunately, the government has allowed this situation to drift and has shown a lack of energy in getting to grips with the unfolding situation. Unite has been banging its head against the wall.'
Unite has proposed a six-point plan to alleviate the crisis, which includes improved pay and conditions; tackling the lack of diversity in the industry; simplifying driving hours rules; making better parking and facilities a priority; toughening up sanctions for employers denying drivers access to basic facilities; and shifting the cost of accreditation from drivers to employers.