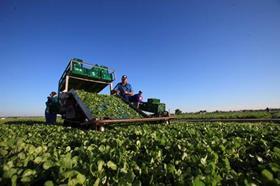 Dorset-based grower The Watercress Company has turned to a chimpanzee rescue centre for workers amid the economic upheaval of coronavirus.
The UK's largest watercress producer is recruiting 25 staff from a local centre for abused primates called Monkey World, which has been forced to lay off 35 employees.
Exacerbated seasonal labour shortages are a major concern for the fresh produce sector and in the past couple of weeks longstanding overseas employees have been prevented from coming and working for TWC by government travel restrictions.
TWC's managing director Tom Amery said: "Every year from May to October we have welcomed the same experienced seasonal workforce back to help us during the busy UK watercress and salad season.
"This year, we have had to apply some lateral thinking to the problem of labour shortages which we know are comingand whilst clearly we would rather not be in this difficult situation, we are glad to be able to help Monkey World staff.We all need to have a vision to keep our businesses on track in these difficult times.
"It's imperative we start our season with a full team as we are responsible for supplying 100 tonnes of watercress a week to the salad aisle of thousands of supermarkets across the UK."
Applications – mainly from Monkey World's shop, catering and groundworks staff – have already started to come in.
The new recruits will be trained in the key skills required to irrigate, weed, roll, harvest and pack the watercress and salads. It is estimated the staff will be ready to work at TWC within four weeks.
"Harvesting staff are crucial to allow us to maintain the production of our crop which is cut every 4-12 weeks," Avery said. "Its unique and productive nature uses spring water nutrition andenables harvesting up to six crops a year.'