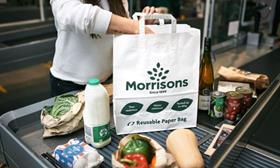 Morrisons could ditch all plastic carrier bags for good after finding evidence that its reusable plastic bags are being used just once.
The supermarket is starting a trial in eight stores using tougher paper bags instead, which can carry up to 16kg.
With retailers across the country cutting their plastic footprint, ditching the single-use plastic bags for reusable ones was seen as an important step forward.
But if the new paper bag proves successful it will be rolled out across all 494 Morrisons stores, saving 90 million plastic bags each year, equivalent to 3,510 tonnes of plastic annually.
Morrisons' chief executive, David Potts, said: 'We believe customers are ready to stop using plastic carrier bags as they want to reduce the amount of plastic they have in their lives and keep it out of the environment.
'We know that many are taking reusable bags back to store and, if they forget these, we have paper bags that are tough, convenient and a re-useable alternative.'
In 2018 the charity Wrap introduced its UK Plastics Pact calling on signatories to eliminate single use plastics by 2025, with 100 per cent of remaining plastic to be fully recyclable.