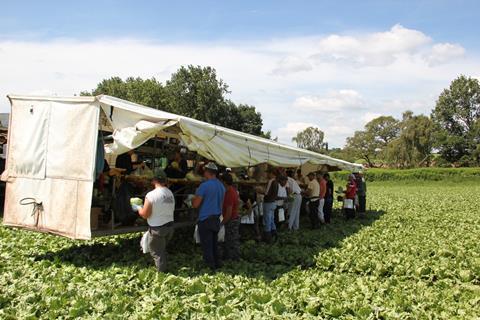 A group of MPs have joined forces to urge the government to reconsider the need for a Seasonal Agriculture Workers Scheme and avoid undermining the success of British fresh produce.
The Efra select committee met last week (6 July) for a debate presented by former chairman Neil Parish MP, with the aim of highlighting current problems experienced by the horticulture sector in recruiting seasonal labour, and to propose a new seasonal agricultural workers scheme after Brexit.
Parish said: "It is no secret that this country relies on foreign labour to pick its fruit and veg. Some 80,000 seasonal workers pick and process British fruit and veg every year.
"The majority of them are from the European Union. Many are from Romania and Bulgaria. For better or worse, that is the current situation. Without those workers, British fruit and veg could rot in British fields, and that is the last thing we want.
"Improving living standards in eastern Europe, particularly Poland, mean that fewer workers are attracted to Britain for higher pay. Perhaps the biggest factor in the labour shortages is the fall in the pound against the euro. The reduction has been between 17 per cent and 20 per cent."
Pete Wishart, member of the Scottish National Party (SNP), made the case for Scottish soft fruit in particular, and said the labour situation is "absolutely urgent". "I say to the minister that the clock is ticking. Some 750 tonnes of Scottish soft-fruit production is hanging on the Brexit precipice.
"Autumn farmers need to start recruiting for next year, and there is no certainty about ​freedom of movement, the movement of labour or even a permit scheme to let workers into the country. Something will have to give.
'The situation is absolutely urgent. We could end up in a situation where, although we have a fantastic product, the summer shelves are stacked with foreign strawberries and raspberries, shipped into Scotland because we simply do not have the workers to pick what is hanging from the fruit trees in our own fields.'
Lib Dem MP for North Norfolk, Norman Lamb, said one of the major soft-fruit producers in his constituency is currently 77 staff short for this season, meaning "fruit will be left unpicked".
Parish said a company in his Devonshire constituency has "halted expansion plans until something can be sorted out with regard to availability of labour". He raised the idea of a longer-term labour strategy that would seek to encourage more British workers into agriculture by becoming more flexible and offering more long-term roles. Short-term roles are an issue for some British workers, he said, who must then find other work or re-apply for benefits.
"We all agree we want to see more British workers in the industry in the long term. It is not sustainable to rely on almost exclusively foreign labour for seasonal jobs. We need to think about a long-term shift now," he said.
Parish said a new labour scheme has three main advantages:
- It would allow government to control numbers in place of the previous free movement of people
- It could extend to both EU and non-EU workers and give the UK wider scope to source the workforce it needs without relying heavily on two or three EU nations
- It could be designed so that applicants have to have a confirmed job before entering the UK
A new scheme would take up to six months to establish, Parish said, meaning that it could be up and running by the 2018 harvests.
Responding to the debate, Defra minister George Eustice confirmed that the SAWS transition group will meet this week to discuss the latest evidence.
"I have asked officials to continue to monitor the situation closely, given the reports we are getting,' he said. "In fact, they have a meeting tomorrow with some of the employment providers and the NFU. The purpose of the meeting is to establish what data we need to come back from the industry and under what timescale they are able to provide it."
Eustice reiterated that the issue of seasonal migration is led by the Home Office, not Defra, adding that: "While we want to have controlled migration, we are very clear that we are not pulling up the drawbridge."