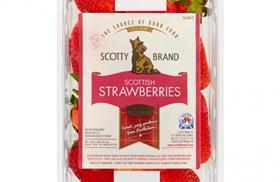 Asda has begun stocking Scottish-grown Scotty Brand strawberries nationwide.
The chain listed the Albert Bartlett-owned brand's berries in 200 stores across the UK earlier this month, priced at £1.79 for 300g.
The strawberries are packed by Bruce Farms in Perthshire, where light, fertile soil, long summer days and mild nights are said to provide ideal conditions for growing the fruit
Liam Richards, berry technologist at Asda, said: "We're always on the lookout for the best-quality products to provide to our customers, and we've certainly secured the sweetest berry with these Scottish strawberries. We're delighted that Asda can share Scotty Brand strawberries nationwide and continue to support produce farmers in the UK."
Geoff Bruce, director of Bruce Farms, added: "We've been growing berries for 25 years and the growing conditions this year have been perfect. Strawberries take about 75 days to ripen in Scotland compared to about 60 days in England and about 45 days in Spain. This is all down to the Scottish weather and climate. The longer the ripening, the better the flavour.
'Scottish berries are a big hit both north and south of the border, so this year we are delighted that our Scotty Brand strawberries can be found in Asdas stores."