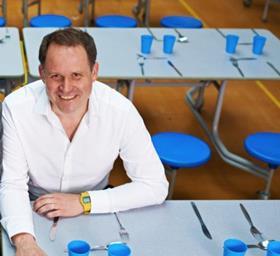 The head of the new National Food Strategy Henry Dimbleby, says he will turn to a Citizens' Assembly before launching his landmark review this winter.
The co-founder of Leon restaurant chain, told the Oxford Farming Conference he plans to amass a group of 95 people over four weekends as part of the strategy's efforts to build a food system fit for Britain in a low-carbon, high-population economy.
Dimbleby also said he will be publishing an interim report in spring, with the final strategy being revealed in the winter. The government has committed to respond with a white paper to the strategy's findings after six months.
Dimbleby, who described the strategy's scope as "insanely broad" said the interim report will "set out rigorous analysis of the system today, the power structures and economics that shape it alongside a vision of the kind of food system we might aspire to".
He continued: "Immediately after the interim report we will be launching in-depth dialogues in every region of the country – within government and with citizens, businesses, civil society and youth.
"These will culminate in a Citizens' Assembly towards the end of the year where a randomly-selected, demographically-representative group will debate the evidence and agree recommendations. We will incorporate the Citizen's Assembly recommendations into the final strategy."
Concerns over climate change, diet, and Britain's food chain in the wake of Brexit, dominated discussions at the Oxford Farming Conference this week.
The Conservative government has pledged to cut UK carbon emissions to net zero by 2050, while the NFU has set the target of net zero CO2 in agriculture by 2040.
"We cannot afford to leave our children a food system that makes them and the planet sick,' Dimbleby said. 'Government cannot make that change alone, it will require dispersed leadership from across the system, from all of us.
"But this is a time of enormous opportunity. In a low-carbon world, we will require much more from our land, we will need it not only to provide food, but materials and renewable energy."
G's chairman John Shropshire spoke on stage with Dimbleby about the changes his company are making in moving towards sustainable production.
"We're listening to our customers and we are investing heavily in organics, improving production in organics, and learning from cross-fertilisation," Shropshire said.
"We have got a major focus on our soils and this is something we are really investing in, healthy soil means healthy crops.
"We're just about to go into an agri-revolution. We have got to apply new technology, and big data programming and planning. We have got to be more productive with more crops but have less input in terms of CO2."