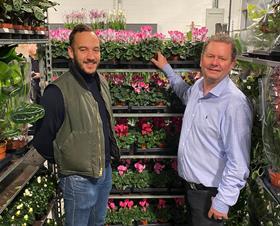 Two of London's leading cut flower and plant wholesalers have merged to create Green & Bloom as a one-stop shop for florists and plant specialists.
Cut flower specialist Zest and plants purveyor Arnott & Mason have operated from New Covent Garden Flower Market as traditional wholesale businesses for a combined duration of over 50 years, but now the two sides hope their combined experience and supply networks will help them expand nationwide.
Green & Bloom said strategic partnerships will see the newly formed business introduce a significantly expanded online store stocking 15,000 lines, while a continued daily presence at New Covent Garden Market gives customers the option of continuing to visit and select their own products in person each morning.
Enhanced tech and infrastructure
Managing director and head of business development Freddie Heathcote said: "We feel that now is the time for our forces to be combined, along with enhanced technology and infrastructure, to create a single entity that will give our customers additional purchasing options, increased levels of service and a far wider diversity of product offering."
Fellow managing director and cash and carry sales director Graeme Diplock added: "In recent times, a surge in online flower and plant sales and the increasing capacity of Dutch exporters to deliver cut-price product in high volumes direct to their UK customers, as fellow members of the European Union, had made the market ultra-competitive.
'The merger is a fightback against competition from exporters dubbed 'The Flying Dutchmen'. The joining of our two businesses is built out of a passion to ensure that our customers get the very best out of Covent Garden. While it has always been a struggle to compete on prices with direct suppliers in Holland, the creation of Green & Bloom now means that we're able to offer all customers an online service that rivals our Dutch competition both in terms of pricing and a better service."
24hr a day purchasing
According to the firm, the web shop means that Green & Bloom customers will now be able to make their purchases 24 hours a day with the option of either collection from the central London location or delivery to their desired destination. Through well-established connections with growers across Europe, South America, Africa and the UK, Green & Bloom says it can offer a vastly diverse range of goods at optimum freshness and extremely competitive prices.
Existing account holders of either Zest or Arnott & Mason will automatically become an account holder of Green & Bloom and wider customers will be invited to use the web-shop from early 2022.
Despite its expansion plans, the company said it remains fully committed to New Covent Garden Flower Market.