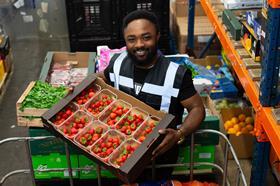 Covent Garden and New Covent Garden Markets are to work together for the first time since the retail and wholesale markets split as part of British Food Fortnight celebrations.
Working with James Street's The Gentlemen Baristas, Covent Garden and New Covent Garden Market have created a one-off special Eton Mess Sundae using only British-grown strawberries supplied by West Green Foods, a restaurant supplier from New Covent Garden Market.
The Eton Mess Sundae will be part of a special two-course British Harvest Time menu pairing roasted ribeye of Aberdeen Angus beef with a pan-fried cacklebean egg and hand-cut chips, also supplied by West Green Foods. Together with a drink for £20 per person, the menu supports the best of British food with only fresh and seasonal ingredients.
Further across the estate, six other restaurants are also taking part in the celebrations. Covent Garden's The Oystermen, which offers Maldon oysters from Essex, is serving them in its restaurant paired with a glass of English sparkling wine from one of the UK's most successful wineries, Hattingley Valley.
Din Tai Fung will highlight two of its star dishes during British Food Fortnight - Dou Miao Garlic and Chilli Crab & Pork Buns - with Dou Miao (pea shoots) specially grown in Lancashire and hand-picked crab meat from Devon.
French tea emporium Mariage Frères is offering a special Salmon Matcha, made with fresh salmon from Murray's Fresh Fish on the south-east coast, while those who love a slice of cake at tea time can pop to Ladurée for its sweet traditional carrot cake, made with carrots from British producer Frederick Hiam, with farms in Suffolk and Cambridge.
With seasonality of food and ethical produce at the heart of its brand, Petersham Nurseries' La Goccia will mark the occasion by celebrating its entire menu, all made with British-grown ingredients from its Haye Farm. La Goccia will also launch a special 'Apertivo Hour' menu, where visitors can buy one cocktail and enjoy the second free on Wednesdays, Fridays and Sundays.
Frenchie will add a special dish to its dessert menu, a seasonal Eton Mess, made from British produce including Natoora berries and Woolley Park Farm's fresh eggs, topped with a blackcurrant and tarragon sorbet featuring berries also supplied by Natoora.