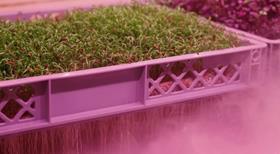 New research into vertical farming production is shedding light on how to develop more complex crops such as broccoli, strawberries and carrots.
A recent study in The New Phytologistconducted by the John Innes Centre, the University of Bristol and Bristol-based indoor growers LettUs Grow, argues that vertical farming in Britain must expand in order to tackle major environmental issues such as climate change.
The study identifies future research areas needed to accelerate the sustainable growth of vertical farming using aeroponic systems, which can bring numerous environmental benefits, as well as a more steady income for farmers.
Vertical farming has been tipped to grow annually by 21 per cent up to 2025,
Dr Antony Dodd, a group leader at the John Innes Centre and senior author of the study, said: "By bringing fundamental biological insights into the context of the physics of growing plants in an aerosol, we can help the vertical farming business become more productive more quickly, while producing healthier food with less environmental impact."
Another author, Jack Farmer, chief scientific officer at LettUs Grow added: "Climate change is only going to increase the demand for this technology. Projected changes in regional weather patterns and water availability are likely to impact agricultural productivity soon. Vertical farming offers the ability to grow high value nutritious crops in a climate resilient manner all year round, proving a reliable income stream for growers."
According to the John Innes Centre the benefits of vertical farming include better use of space because vertical farms can be sited in urban locations, fewer food miles, isolation from pathogens, reduction in soil degradation and nutrient and water recapturing and recycling.
Vertical farms also allow product consistency, price stabilisation, and cultivation at latitudes incompatible with certain crops such as the desert or arctic.
"Vertical systems allow us to extend the latitude range on which crops can be grown on the planet, from the deserts of Dubai to the 4-hour winter days of Iceland. In fact, if you were growing crops on Mars you would need to use this kind of technology because there is no soil," said Dr Dodd.
John Innes Centre researchers have bred a line of broccoli adapted to grow indoors for a major supermarket and one of the aims of research will be to test how to genetically tune more crops to grow in the controlled space of vertical farms.
LettUs Grow are also working on growth regimens for fruiting and rooting crops such as strawberries and carrots, as well as aeroponic propagation of trees for both fruit and forestry.
Bethany Eldridge, a researcher at the University of Bristol studying root-environment interactions and first author of the study said: "Given that 80 per cent of agricultural land worldwide is reported to have moderate or severe erosion, the ability to grow crops in a soilless system with minimal fertilisers and pesticides is advantageous because it provides an opportunity to grow crops in areas facing soil erosion or other environmental issues such as algal blooms in local water bodies that may have been driven by traditional, soil-based, agriculture."