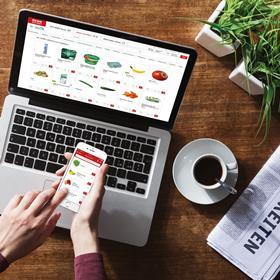 FruPro's co-founder William Hill says he hopes to "change the world" with a new mobile app that will offer greater clarity, drive connectivity and build communities across the fresh produce industry.
Hill says FruPro will provide an end-to-end community for the fresh produce industry worldwide while offering greater transparency for fresh produce consumers. The app aims to innovate the industry supply chain by helping its partners and consumers see beyond what's on their plates, but understand every step it took to get it there.
With so many complex, fast-moving and unpredictable elements in the supply chain, a lot of that information gets lost along the way. Through FruPro, Hill says every business in the industry will have a dedicated platform for making information more transparent, credentials more accessible, marketing more targeted and connections more rewarding.
Instead of an endless trail of documents, emails and conversations, there's a simple, open destination where the information that matters can be found and shared in seconds.
William Hill and Reg Jackson, with the help of WT Hill & Sons and mobile app specialist AtomicMedia, teamed up to deliver the project, with work on the app already underway.
The duo aim to launch the app next year, allowing growers and buyers to connect and trade with each other, as well as give nutritional and provenance info for shoppers to make healthier and personalised food decisions.
Hill boasts a lifetime of experience in the world of fresh produce having worked for the family fruit importing firm WT Hill & Sons, and brings his passion for the industry to modern platforms.
Hill's partner in the project, Reg Jackson, is himself a long-time veteran of the industry and brings a wealth of sector-relevant IT experience to the table. "We would like to think it will improve everybody's relationship with fresh produce, and engage the consumer on the nuances of fruit, veg, fish and meat," Hill said.
"We had a vision of what we think it can do for the industry, but originally it's about what we can do for the consumer across the world. We would like to change the world," Hill says.
Hill said the software will incorporate elements of other successful apps such as Uber, WhatsApp and Instagram, to create a completely integrated platform for people involved in fresh produce and meat, and shoppers who buy it.
Food businesses and growers can create a profile, registering their services and capabilities. Through the app, growers can showcase their produce, which buyers can monitor and make orders.
Other features will include live lorry tracking, to give traders real-time information on their deliveries, as well as recruitment advertisements, and document verification such as credit insurance.
"There just isn't a sense of clarity, connection or community across the fresh produce industry and that's what we want to instil," Hill says.
Alongside making it easier for growers to connect with buyers, the data generated in the process will mean consumers using the app can access the provenance of the fresh produce and learn more about what they are eating.
"I would love to help people make their choices, such as eating more seasonally, and reducing carbon emissions," Hill says.
"All the information comes from the very top of the supply chain. When the grower starts to upload what they're doing it will filter down to the shopper. A lot of people want to know what a flat peach is or a pink apricot, but you can take a photo of the product and it will link to the app."
Going forward FruPro hasn't limited its possibilities. The team believe it will become a benchmark for food and fresh produce businesses and enthusiasts across the industry.
"Down the line we plan to extend FruPro to incorporate restaurants and food places. Consumers will be able to read a menu and use the app to tell them exactly where the food has come from that day. We'll also provide consumers with updates on their favourite fresh produce, give them fun nutritional recipes that they can enjoy and enhance further their own and their family's relationship with fresh produce."