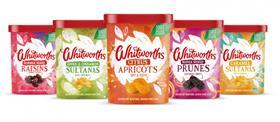 Whitworths has launched two new flavoured dried fruit and nut ranges into Tesco.
Flavoured Fruit Tubs and Flavoured Fruit & Nut Mixes are infused with 100 per cent natural flavours and are described as bringing 'a burst of flavour to healthier snacking occasions and breakfasts alike.'
Whitworths said the NPD is a move to further diversify its brand into the healthier snacking category. The flavour combinations are designed to complement the dried fruits that they are paired with, such as sultanas coupled with the spiciness of cinnamon, or prunes made tastier with a coating of maple syrup.
Both product ranges will be available in Tesco stores nationwide from 20 September.
Flavoured Fruit Tubs (RRP £3 per 275g/300g tub) are resealable and recyclable and feature five different flavours to choose from: Apple & Cinnamon Sultanas, Citrus Apricots, Caramel Sultanas, Maple Syrup Prunes, and Summer Berry Raisins.
Flavoured Fruit & Nut Mixes (RRP £2 per 150g pack) feature three flavours: Caramel Fruit & Nut Mix (chopped dates, pecans and caramel sultanas); Cinnamon Apple Fruit & Nut Mix (flame-roasted hazelnut and cinnamon apple sultanas); and Summer Berry Fruit & Nut Mix (cherry cranberry, almond and summer berry raisin).
Whitworths' brand and c-commerce controller Baz Goode said: "The launch of Whitworths' two new flavoured NPDs is a move to continue to drive consumption of dried fruits and nuts across more meal and snacking occasions as part of living our purpose - to help everyone eat a little healthier every day.
'Not only are they perfect for healthier snacking throughout the day, both flavoured ranges are a great addition to boost your breakfast; add some punch to your porridge or oomph to your oats!
'National surveys show that 92 per cent of children aged 11-18 years and 73 per cent of adults are not getting their 5 A Day or meeting their recommended daily intake of fibre (30g). With just 30g of dried fruit counting towards one of your 5 A Day, Whitworths' two new product launches are not only a tasty and convenient on-the-go snack or breakfast addition, but are nutrient-rich powerhouses packed full of goodness."