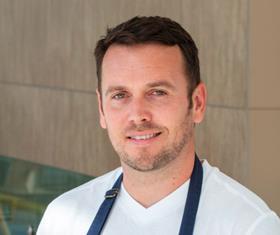 The Co-op has appointed a new chef to guide the culinary direction for its convenience and wholesale food businesses.
David (Dai) Llewelyn will be the new executive innovation chef for the retailer, overseeing product creation for the Co-op's brands, including its GRO vegan and top-tier Irresistible ranges.
Llewelyn joins Breige Donaghy, the Co-op's director of Delicious Food, development and innovation team to drive forward the future innovation platforms for brand proposition. He will lead his culinary team to help develop new products for the convenience retailer, working alongside Co-op product developers to identify emerging food trends, implement new technologies and champion sustainability within its NPD.
The c-store chain pointed out that an innovation chef is an increasingly integral role within a food retailer, as the importance of providing customers with interesting and delicious products which also tick the sustainability, traceability and health boxes, grows.
Llewelyn has 15 years' experience within the food industry, with his most recent in-house role being executive development and innovation chef at Greencore, and winning accolades at the British Sandwich Designer of the Year awards and being named Free From Pasta Chef of the Year 2019.
He said: "I am so excited to have the opportunity to join the Co-op team, and become part of a brand that puts so much into the quality of its food and how it sources ingredients. I look forward to having the opportunity to inspire and educate further and continue to deliver good food, taking ingredients and turning them into food that makes people happy."
Meagher bolsters insight team
In further appointment news, Co-op has unveiled former Tesco man Nick Meagher as head of insight and research as part of ongoing growth in its Data, Digital and Loyalty team, following the refresh of its membership programme and launch of the Co-op app last year.
Meagher has been appointed into the newly created role, reporting directly into Charlotte Lock, director of data, digital and loyalty, to drive the group's membership ambitions. Working across the Co-op Group, Meagher will take on insight and research leadership for the Co-op's Food, Insurance, Funeralcare, Legal, Community and Membership functions.
Starting in September, Meagher joins the Co-op from Tesco as head of customer insight where he worked across the brand's marketing communications, loyalty proposition and foresight. The appointment to the Co-op follows a long-established career in global insight leadership roles with both Unilever and Mondelez International.