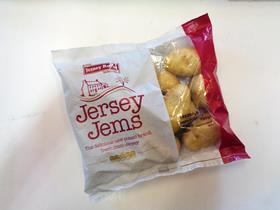 A new potato variety marketed as Jersey Jems is being exported to the UK for the second year running.
Last season there was a massive shortage of potatoes on a global scale that presented a real opportunity to launch this new variety as a trial. Jersey Jems were distributed and sold successfully with a flaky skin on the wholesale market, and despite the limited volume, additionally sold through Ocado.
Repeated this year, they are also currently being trialled by Lidl in the south and south-east of England
The potato variety is Tresdale, but is no relation of the famous Royal Kidney which has made Jersey famous and can trace its history back 125 years, and enjoys recognition with the EU Protected Designation of Origin stamp.
William Church, Jersey Royal Company's director of sales and marketing, said that for a number of years the company had played around with a few trial varieties just to keep abreast of other new, salad and baby options competing in the market.
'In 2009, this process took more shape and, alongside recognised varieties available, some new trial varieties were also grown,' he said.
'Over the next few years a selection process was undertaken with regular sampling to identify those that could be grown alongside or in place of Jersey Royals'.
He added: 'Ideally, we would like to see Jersey Jems become established as an additional exclusive Island export alongside the Jersey Royal.
'This is dependent on market demand, and to date we have grown the crop to be available from the end of the Jersey Royal season in July when it can be lifted and sold as an early flaky skin 'new' potato.
'It stores well and last year was sold as a set skin variety both locallyand on the mainland through until the end of the year.'