Redesigned packaging and digital campaign in London underlines brand's sustainability credentials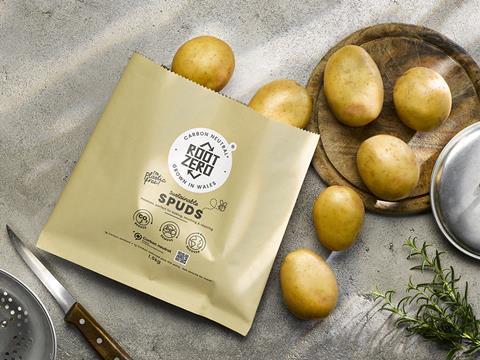 Carbon-neutral potato brand Root Zero has launched new packaging and a digital out-of-home advertising campaign supporting its listings in Waitrose stores across London.
Grown in Wales by Puffin Produce, Root Zero has introduced a new 1.5kg pack size and redesigned packaging that retains the brand's commitment to be 100 per cent plastic free and fully recyclable.
To support the launch of the new pack, Root Zero is running a campaign across over 300 digital advertising sites around London in March. In line with its sustainability goals, it is also piloting new streamed ad delivery technology that reduces data transfer and associated carbon emissions.
In conjunction with the marketing campaign, a recent price promotion with Waitrose has seen weekly sales increase by more than 300 per cent, the brand reported.
'Feel a bit more hero'
The campaign creative features a new 'superhero spud' character sharing the message to 'Feel a bit more hero for choosing Root Zero'.
Root Zero is grown sustainably by farmers who are working to minimise carbon emissions, protect soil health and support biodiversity. The company has measured every contribution to the potatoes' carbon footprint - from the power used on the farm to the transport used to take Root Zero potatoes to the supermarket, even down to customers cooking the potatoes at home.
Puffin Produce has also joined the global Science Based Targets initiative (SBTi) and committed to reducing its emissions by 46 per cent by 2030, in line with the Paris Agreement to limit global temperature increases to 1.5 degrees.
While it works towards that reduction goal, the company is investing in gold standard carbon offset projects and piloting a landscape enterprise network. The network brings together organisations and businesses to work together to transform local landscapes into rich, multifunctional ecosystems and build resilience into food and water supplies. The work is helping to enhance carbon sequestration, secure farmers' livelihoods and address some of the material risks from climate change.
Huw Thomas, chief executive of Puffin Produce, said: "It's been 18 months since we launched Root Zero so we've created our new pack based on the great feedback we've had from customers and retailers in that time. We've used the redesign to highlight the fact that our potatoes are grown in Wales, to showcase some of the great work our farmers are doing to reduce our carbon footprint and support biodiversity, and to help customers cut their food waste.
"We hope that with more shoppers picking up a bag of our sustainable spuds, we can accelerate our plans to tackle the impact of the food industry on climate change, one bag at a time."
Root Zero is available nationwide from Waitrose and Co-op stores.