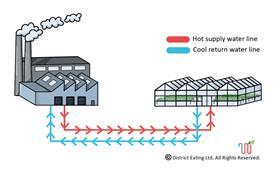 NFU Energy and District Eating are working together on a part Innovate UK-funded project to reduce CO2 emissions by enabling growers to access stable and lower-cost heat.
The project will run for 14 months and assess the economic, environmental and social opportunities associated with using sources of waste heat and carbon dioxide for protected horticulture in England.
Of 60 UK energy-from-waste plants, only 10 are said to use heat successfully. Recoverable waste heat from UK industry could reportedlysupply 14 per cent of UK domestic heating (estimated to be 10-50 TWh/yr).
Using this waste heat in protected horticulture for UK food production could reduce CO2 emissions associated with its production by at least 70 per cent, without including CO2 savings from reduced imports and transport supply chain emissions.
Opportunities from waste resources
The study aims to improve productivity and reduce carbon emissions associated with industrial production while showcasing the opportunities that can be made from waste resources. Using these waste resources to grow food also could have sustainability benefits, increasing food security in the UK and taking pressures off countries already seeing the effects of climate change, who are relied on for imports.
By providing longevity in a heat source, away from direct energy markets, the project aims also to improve resilience for both growers and sites with industrial waste heat.
Project partners
District Eating develops low-carbon horticulture projects using waste heat and CO2. The team is made of a diverse range of engineers and sustainability specialists who aim to reduce environmental and transportation costs while improving food security in the UK.
District Eating also aims to incorporate community benefit into its projects with training, apprenticeships and social prescribing.
District Eating's role in the project is to identify and contact potential sources of waste heat in England, to generate interest in the Innovate UK project; explain the benefits of co-locating horticulture with sources of waste heat, and the opportunities it can deliver to sources of waste heat (financial, environmental and reputational); and model the potential economic, environmental, and social benefits of waste heat recovery.
NFU Energy helps its customers by finding them the best renewable energy solutions, ensuring their compliance to UK energy incentive schemes and through sourcing the best energy contracts on the market.
Its role in this project is to facilitate increased production potential by providing lower-cost heat sources to growers and farmers; help enable the re-use of industrial waste heat lowering CO2 emissions of the industry and reliance on high CO2 emission fuels for horticulture; and ensure resilience by decoupling growers from the direct energy markets and provide stability and longevity in heat source.
Testing business models
The project will also assess relevant business models, from heat supply agreements for district heating to online marketplaces for organic resources. The suitability of these options will be tested with groups of horticultural and waste heat-producing businesses recruited to the project.
Examples where waste heat is already being re-used include:
• A 29ha greenhouse development using heat abstracted from wastewater upgraded with a heat pump supplied with electricity from a natural gas fired CHP
• An 18ha greenhouse heated with wasted heat from sugar refinery
• A 1.2ha greenhouse supplied with heat from biogas-fuelled CHP.
Net-zero future
Both NFU Energy and District Eating aim to provide support and opportunities to reduce emissions and develop a net-zero future. They will be working together throughout the project to identify overlap in research, supporting growers in accessing stable, low-cost, waste heat.
Technical director of NFU Energy Jon Swain said: 'With extraordinary gas price rises towards the end of last year affecting the cost of heat and having an effect also on electricity prices and CO2 production, growers are facing unprecedented costs of energy and CO2, which is used to enrich the growing environment for produce in the greenhouse.
'This service could provide growers with ideal opportunities to source local, sustainably, and reliable alternatives to gas, at a time when farmers are really feeling the effects of supply chain issues and the pressure of decarbonising.'