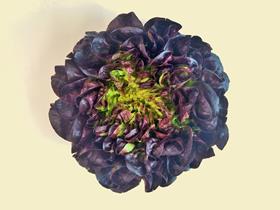 Sainsbury's has become the first retailer to unveil a new British lettuce variety for the summer months.
Launched into Sainsbury's by Bedfordshire Growers and that company's growing partner Jepco, Red Butterhead is a Red Salanova type bred by Rijk Zwaan.
It is grown in Lincolnshire during a short season which runs from June until November, and its leaves are said to have a sweet flavour, unlike many other more bitter red-leaved lettuce varieties.
The product is currently available in Sainsbury's stores for £1.
Stephen Hedderly, MD of Bedfordshire Growers, said: 'Piccavers and Bedfordshire Growers first saw this variety in the Spanish trials two years ago, and were excited with its attractive appearance and flavour. Being part of the Salanova type of lettuce, it is also incredibly easy to prepare, Cut away the butt and beautiful evenly-sized multi-coloured leaves fall apart.

'Although Salanova is available and used in a lot of bag salads, this is one of the first launches at the wholehead market.

"A lot of the lettuce category is dominated by green crunchy varieties. We felt it was important to add more colour to the range and a softer leaf type variety, and with this variety not only being the most attractive but possibly the most convenient to prepare, it was a perfect choice."