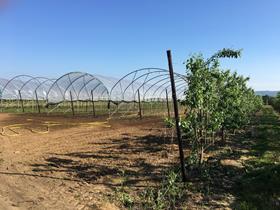 Novel mechanical weeders will be unveiled at Britain's first Plum Demonstration Centre open event, funded by AHDB and hosted by NIAB EMR.
The recently launched plum centre aims to break new ground in best practise growing with the first open day scheduled for 31 October.
NIAB EMR will also be showing off two new plum varieties at the event, as well as an area designated to shine a light on 23 new varieties that demonstrate how the season can be extended from July to October.
The early result of a trial to demonstrate plums grown on new rootstocks will be shared at the event, as well as findings on soil health assessments, worm counts, comparative yields, pruning and labour costs.
"The best way to help growers decide if they should adopt new technology or use a different growing system is to demonstrate it in the field. I am confident the open day will provide growers with a platform to put this research into practice and have some interesting discussions," said Scott Raffle, AHDB's knowledge exchange manager.
"Two additional areas of the orchard will demonstrate a range of tree architecture for Victoria and an area under protection to demonstrate the differences between outdoor and protected cropping. It truly is research in practice, to help growers make future investment decisions."
Through the centre of excellence for plums, NIAB EMR and AHDB aim to establish and lead growers to implement best practice ensuring efficiency and consistency is achieved within their businesses, ensuring resources are not wasted.
Chairman of the AHDB Tree Fruit Panel, Rob Saunders said: "This is the first opportunity growers will have to visit the Plum Demonstration Centre. NIAB EMR can accommodate a range of different growing systems and interventions and more importantly record the results."
The orchard has been planted by NIAB EMR in partial fulfilment of an Innovate UK (IUK) research project on 'Sustainable increase of UK plum production' and will include plots to demonstrate several themes in the project designed to extend the production season and improve plum profitability in the UK.
"This will be a valuable resource shining a light into the opportunities that exist for this relatively neglected crop," Saunders added.
The event is also an opportunity to demonstrate the results of other AHDB funded orchard research including earwig-safe spray programmes, best practice in Spotted Wing Drosphila control and soil management.
The Plum Demonstration Centre is a part of AHDB's Farm Excellence programme. The day event will begin at Pre-book onto the event by visiting:http://bit.ly/PlumDemonstrationCentreDay