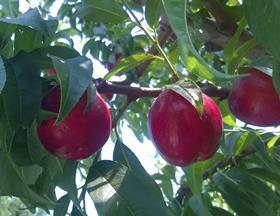 Stonefruit breeder and licensor Newstairs has announced the arrival of several new early season varieties.
In peaches the Kent-based company has released Alpine Delight, part of the Oz Peach range created by Australian fruit grower and breeder, David Mazzardis, as well as Spring Flame 20, developed at the Burchell Nursery in California.
The former, a white-fleshed variety, has firm, juicy flesh and a long shelf life, while the latter is an all rounder with "solid agronomic credentials", according to the Newstairs website.
In nectarines last year saw the launch of Spring Flare 22, with the variety described as a "block-red early season nectarine, with a super-clean skin finish, heavy production and deliciously fruity, balanced flavour". The yellow-fleshed variety matures in mid- to late May.
Commercial manager Ben Clapham added that Newstairs, part of the AG Thames group, expects to "confirm some very promising results" in both plums and cherries this season. "We will launch a new plum series and two new cherry varieties, all from the Burchell stable," he said.
"We feel the market will benefit most from modern, flavoursome varieties with great yields in the orchard and great consistency on the retail shelf. We absolutely have the breeding programmes that deliver these attributes."
Spain is a key market for the breeder's varieties and the company has a trial orchard in the western border region of Extremadura.
Commenting on how frosts in March have affected Spanish stonefruit production, Clapham said: "We understand that the 'Vega Alta' of Murcia has lost as much as a third of its stonefruit production.
"Extremadura seems to be largely unaffected, whilst Catalonia and Aragon have some considerable losses in early apricots and some early stonefruit.'