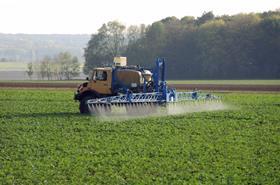 A revised National Action Plan for the Sustainable use of Pesticides must enhance farmers' ability to be competitive and produce safe and affordable food, in addition to its clear priorities to protect health and the environment, the NFU said today (26 February).
The NFU has submitted a response to the government consultation on its draft five-year action plan which aims to minimise risks and impacts of pesticides on human health and the environment, while ensuring pests and pesticide resistance are managed effectively.
NFU vice president Tom Bradshaw said: "The UK currently has some of the most stringent pesticide regulations in the world which control any potential impact or risks from their use.
"UK farming is committed to demonstrating that it is continuing to take a responsible approach to using plant protection products. For example, under the current National Action Plan, we have been successful in achieving increased training of spray operators, equipment testing, stewardship initiatives as well as establishing Integrated Pest Management (IPM) plans on farms across the country. This focus on IPM aligns with the NFU's own plant health strategy, which puts IPM at the heart of all crop protection activity.
"While the government rightly focuses on public health and the environment, it's important that this is balanced with the need to produce affordable British food and enabling productive and competitive farm businesses. For this, farmers and growers need continued access to more effective tools to protect crops from pests, weeds and disease, and to ensure they can run thriving, profitable businesses.

"We look forward to working with government to develop a revised National Action Plan that protects health and the environment, while also driving sustainable climate-friendly food production in the UK so farmers can continue to provide safe and affordable British food for everybody."