Horticulture board chair Martin Emmett outlines position at wide-ranging Fruit Focus seminar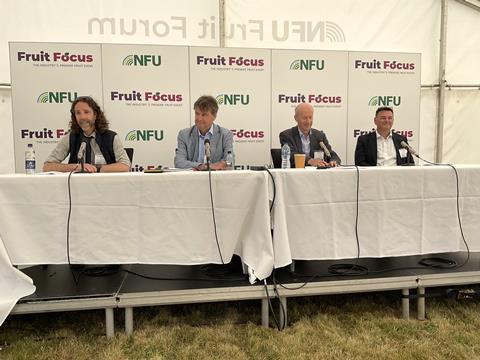 NFU Horticulture & Potatoes board chair Martin Emmett has urged the government to pursue the union's strategy for the future prosperity of the industry.
The government revealed earlier this year that it was dropping its own plans for a horticulture industry strategy, instead opting to tackle issues on an case-by-case basis. That has included upping the number of available seasonal worker visas – a move that has been welcomed by the industry – but there have been criticisms the overall approach lacks long-term, joined-up thinking.
The NFU has developed its own vision for the future of the sector, and has urged all parties to get behind it. "It's a matrix of problems and we need to do it collaboratively," Emmett told a forum hosted by the union at Fruit Focus in Kent this week.
The NFU's 10-point strategy covers access to permanent and seasonal labour; affordable energy; access to crop protection; an enabling plant import control and planning policy environment; productivity investment; fairness in the supply chain; and access to water, sustainable growing media and environmental funding schemes.
"We didn't have the comprehensive growth strategy [from the government] but we did present it to the minister in March and he did accept it in principle," Emmett said.
The challenges of labour sourcing
Looking in more detail at some of the issues around the recruitment and retention of staff, G's chairman and chair of the Independent Labour Review, John Shropshire, told the forum that every job in the food supply chain is essential and should never be dismissed as "unskilled".
The process of recruiting migrant labour has become "incredibly complex", he added, noting that workforce shortages both alter the trade balance and are a cause of food price inflation.
Over 400 organisations contributed to Shropshire's review, which ranged from the hiring and retaining of staff to skills and automation, and calls for a comprehensive and collaborative approach to the issues. "The review highlights that migration will continue to be necessary, and also makes clear the need for an appropriate legal framework to prevent exploitation," he said.
The government is expected to respond in October.
TIAH gears up for full service
Also speaking in the forum was Stephen Jacob, newly appointed chief executive of the Institute of Agriculture & Horticulture (TIAH), a new professional body helping to boost skills in farming.
Outlining his organisation's progress towards being fully up and running – which will ultimately include the launch of a membership service – Jacob explained that TIAH has developed 'essential skills online training modules' featuring topics such as biosecurity and H&S, and completed careers and labour market research.
The TIAH platform is currently in public beta testing mode, but Jacob spoke of wanting "everyone to know who we are by the end of the year" and having a "ribbon-cutting moment in the new year".