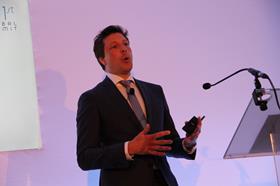 The rise of e-commerce, 'connected commerce' and new business models are bringing major changes to the path to purchase in consumer goods, according to FMCG and retail information service Nielsen.
Armed with more information and choices for pricing, products and delivery options, consumers can now take myriad different paths to purchase, Konrad Gerszke told business leaders at the Consumer Goods Forum Global Summit in Berlin on 21 June.
This is making it increasingly important for brands and retailers to be targeted and relevant, based on careful data analysis; to react to local tastes; and to capture consumers' attention "within a micro-moment".
Gerszke told delegates that the traditional path to purchase was now "obsolete", putting pressure on businesses across the sector to adapt to changes in the way consumers shop.
Connected commerce
One of the key areas for companies to master, according to Nielsen's president of global clients, is so-called 'connected commerce' – the incorporation of digital touch points along a shopper's entire path to purchase, from reviewing products online at home to using smartphones as personal shopping assistants in store.
It is also important for businesses to "think omnichannel"; to address unique consumer needs with highly targeted offerings; and to provide a differentiated or personalised shopper experience, Gerszke said. This could mean adopting a new business model.
On the subject of connected commerce, the consumer goods and retail expert said: "Adding more touch points and integrating them across search, across content, influencers is really, really critical.
"Online and offline are complimentary. For the shopper these modes work together and they make it simple, seamless and add incremental value to the shopper."
According to Nielsen's 2016 report on connected commerce, 54 per cent of shoppers globally look up product information before they buy a product online; 44 per cent compare prices; 35 per cent seek out deals; and 34 per cent read product reviews.
In the US, meanwhile, two thirds of all retail transactions across categories are digitally influenced in some way – even if the purchase itself is made in a physical store.
This highlights a growing overlap between e-commerce and in-store shopping, presenting opportunities to businesses that can integrate the two.
Meal kit success
"I would say it's not a threat; it's an opportunity," said Gerszke. "But you have to ask: 'In how many ways do I connect with my consumers? How many times a week, how many times a day, across which platforms? What is the return on investment of those touch points?' All of these things matter a lot."
Successful business models to have emerged from these changes to the retail environment have been American meal kit providers FreshDirect and Blue Apron and UK-based HelloFresh.
"Blue Apron is leading clearly in terms of visibility," Gerszke said, noting the company's huge increase in revenue from $78 million in 2014 to $795 in 2016.
"It's still a small business if you compare it to the total US grocery pie but it's growing very fast and fundamentally changing how consumers are interacting with groceries," he said.
He also noted that basket sizes in meal kit e-commerce are "significantly bigger" than traditional baskets. "This is driven by order frequencies and specific item compositions," he said. "You can make these models profitable and those basket sizes continue to expand."