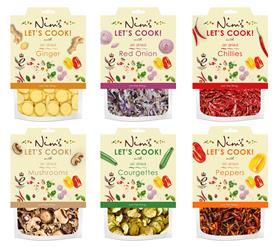 Nim's Fruit Crisps has launched a new range of air-dried ingredients as it accelerates its post-pandemic strategy.
The manufacturer, which employs 18 people at its factory in Sittingbourne, responded to the drop in demand for food on-the-go by introducing a range of Let's Cook and Let's Bake products aimed at bars, restaurants and retailers.
The firm said two high-profile restaurant chains are already trialling the 100 per cent natural bespoke ingredients in their dishes as they 'look to benefit from a more cost-effective option that delivers great taste, improved aesthetics and a longer, 24-month shelf life.'
The ingredients are versatile and can be used to garnish salad, flavour a porridge, or as a main ingredient such as a soup, and products range from onion and dried ginger to more exotic sea buckthorn.
Nim's has invested over £75,000 into machinery and a new production line to help increase capacity and give it the ability to produce smaller pieces and packaging options ranging from small, sealed packs to 5kg bulk bags.
The launch of ingredients comes on the back of the rollout of its infusions range, which are pitched as ideal for garnishing drinks and infusing water bottles, teas and alcoholic beverages. The company has sealed deals with a number of subscription-based businesses, the event sector and festivals, as well as Eurostar.
Retailers have begun to stock the resealable pouches, the company said, with pink grapefruit and kumquat variants joining lemon, lime, orange, cucumber and grapefruit.
Founder Nimisha Raja said: "Covid-19 and the work-from-home edict has pretty much eliminated office life in city centres and this has had a massive impact on 'food on the move'.
"We could either bemoan our luck or try and do something different, taking our expertise in air-dried manufacturing to launch a new range of ingredients for use in the food and drink sector and, hopefully, with independent and high street retailers. The initial response has been great, and we currently have two main ranges - Let's Cook for chillies, courgettes, ginger, mushrooms, peppers and red onion, and Let's Bake to encompass apples, pears, pineapple and strawberries.
"These are really tapping into the major rise in home cooking and baking and, one of the most pleasing things here, is that nothing is off the table, as the air-drying process means we can work with all fruit and vegetables.'
In other company news, Nim's Fruit Crisps has been presented with its Queen's Award for Innovation by Lady Colgrain, the Lord Lieutenant of Kent. "Officially receiving our Queen's Award has been a long time coming, but it was definitely worth the wait,' said Raja. 'We wanted to make sure our staff were front and centre of celebrations as they've been pivotal to our growth, and what better time to accept the crystal trophy than a few days after we bring our latest 'innovation' to market."