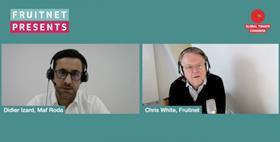 Near-infrared (NIR) technology to measure Brix levels is allowing tomato producers to charge higher prices for certain fruit, while offering an incentive to push for higher quality.
Speaking at the Global Tomato Congress, Maf Roda's export director Didier Izard explained that breakthroughs in spectroscopy have enabled suppliers to grade out sweeter tomatoes and sell them at a premium.
In partnership with the grading, sorting and packing machinery specialist, three major growers in Almeria have developed premium brands of sweet tomatoes that measure above a certain Brix.
The practice has established itself in the round tomato segment, with growing interest for cherry tomatoes.
"It's helping growers get more reward and incentivising them to produce better-tasting tomatoes," said Izard. "It's a very interesting development in the tomato industry."