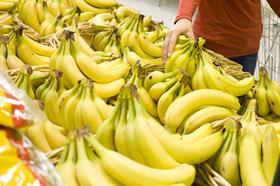 The Covid-19 pandemic has thrown up some unique challenges to the banana trade and its globalised supply chain, but it's been far from a tale of woe as stoic suppliers adapt to the new normal and find that health-conscious consumers can't get enough of their versatile product.
David Bateman, chief operating officer at SH Pratt Group, says the company saw a spike in sales as customers stocked up when lockdown measures were announced, although this has since settled back to normal levels. "As more people are at home more regularly and able to shop at different times, not just on weekends, we have noticed that there has been a flatter trading pattern throughout the week," he points out.
Compagnie Fruitiere UK notes a similar trend, with commercial director Simon Trewin stating that customer orders were very high in the early days of lockdown, leading to the firm delivering record volumes over the period. "First of all bananas are a convenient snack-type product, but it is also healthy," Trewin says. "It lasts quite a while in the fruit bowl, and even once it's overripe you can also use it in banana bread, which a lot of people are doing."
Sales of pre-packed bananas have seen a notable uplift in the last two months – a somewhat ironic development given the criticism thrown the way of retailers over "unnecessary" fresh produce packaging prior to the Covid-19 crisis. The trade will be watching closely whether consumers have gained a new appreciation of the value of packaging once the crisis subsides, or whether the wider trend towards loose and unpackaged fruit and vegetables continues.
Social distancing rules provide a particular challenge for banana suppliers and ripeners, and Bateman says SH Pratt Group is following the 2m distancing requirement, despite the fact that means fewer staff on site and a consequent knock-on effect on productivity.
At the farm end, Bateman explains that the company's procurement team is in daily contact with growers at source. "They have all put in place a different number of actions as social distancing has come into play and new PPE has been provided to their staff, together with even further hygiene controls," he points out. "The growing/farming areas at source have not been affected as much so far. There is a more noticeable rise in cases in the more urban areas. Our main challenges have been with transport, shipping and the supply of materials, but we are now able to manage those challenges and maintain a regular supply. The flattening of the trade pattern in the UK market has been manageable with our growers."
Likewise at Compagnie Fruitiere, Trewin pays tribute to the firm's staff and suppliers both in Britain and at source in Africa and Latin America, where the same measures on PPE and social distancing are being enforced to protect staff. "We are really pleased with how we've managed to continue supplying and producing as an organisation," he concludes. "It's business as usual really."
That banana suppliers are managing to operate at something close to normality is tribute to the finely honed supply chain and nimble response to the unprecedented situation they face.