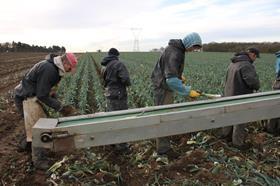 Exceptional temporary licences will no longer be issued by the Gangmasters and Labour Abuse Authority (GLAA) from the start of June, the agency has confirmed.
The temporary licensing scheme was created by the GLAA to meet a predicted urgentdemand as the UK moved into lockdown, with some sectors of business effectively shutting down and others needing to draw in greater volumes of workers very quickly.
From 1 June, however, the GLAA will not be accepting any further applications for the scheme and any incomplete temporary licence applications in process will be cancelled.
The small number of current temporary licence holders will receive advice setting out how to proceed in seeking a substantive licence. Existing temporary licences will expire three months after they were granted.
GLAA director Dan Scully said: "It was important for us to introduce the temporary licensing scheme to give businesses access to as much support as possible with securing the labour they needed in order to feed the nation in these unprecedented times.
"From the start, we knew that the scheme was always going to be a time-limited emergency measure and through discussions with key stakeholders, we have come to the conclusion that it is no longer required.
"Temporary licence holders who still wish to supply labour beyond the three months of their temporary licence must apply for a full GLAA licence."