Rosie Begg receives Ribena award for her environmental farming approach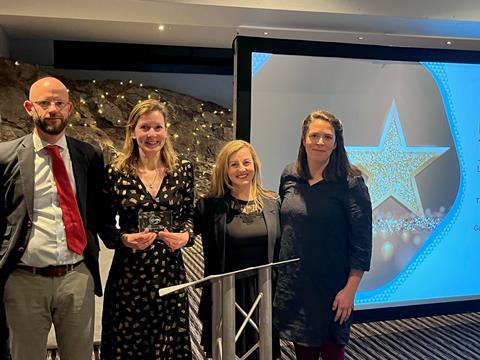 Norfolk grower Rosie Begg has been honoured by Ribena maker Suntory for her committment to environmentally friendly blackcurrant production.
Suntory Beverage & Food GB&I recently brought together its community of Ribena blackcurrant growers for an awards ceremony in Somerset.
Begg, from Gorgate Ltd, won the Ribena Farm Stewardship Award, which recognises the farm most committed to delivering Suntory's Six Point Plan. The Six Point Plan, established in partnership with Farming & Wildlife Advisory Group (FWAG), helps blackcurrant growers optimise habitats for the best blackcurrant production, as well as the wider benefits to wildlife and the planet.
Awarding the certificate, Suntory agronomist Harriet Prosser said: "Rosie and Gavin not only take the Six Point Plan very seriously, but they are committed to driving change and playing a leading role in sustainable food production that works in harmony with nature.
"They are also promoting their work to a wider audience, working with neighbouring farms and other organisations to have a positive impact on the local environment; an additional level of dedication beyond their own farm."
All of Ribena's blackcurrants are British grown, and 90 per cent of the British crop goes to produce the drinks.