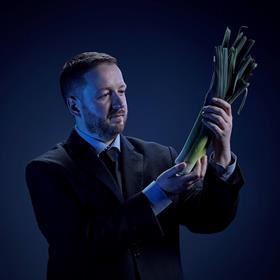 A new business plans to offer a powerful tool to help growers boost the yield and quality of their crops.
MycoNourish, founded by Dr Peter Orrell, is a spin-out of the James Hutton Institute and the company hopes to launch its first two products this year, aimed at sustainably boosting plants and reducing waste in the strawberry and tomato sectors.
The products are based around beneficial fungi, or 'mycorrhizae', which act as a secondary root system for plants and work with crops to enhance yields. Using these beneficial organisms adds value for growers by increasing their margins and supporting them to be globally competitive, the company states, with the launch coming at a time when soil and plant health is a high priority for growers.
"Mycorrhizal fungi are fascinating organisms," Orrell explains. "They act in some ways as a secondary root system for the plant, so it's almost like having an extra rootstock. They absorb increased amounts of water and nutrients from the soil, move that up into the plant and then the plant in return provides them with carbon from photosynthesis. It's a symbiotic relationship."
MycoNourish is not just focusing on nutrient uptake though, and has promised to look at the "more interesting and unusual" capabilities of mycorrhizal fungi in strawberries and tomatoes, which are already grown in ideal conditions. That includes their ability to switch genes on and off, alter the plant's defensive ability and improve pollination and reproductivity.
A key point of difference for MycoNourish, according to Orrell, is that its technology allows it to create new strains that are customised and specific for individual crops, giving a more targeted and productive approach.
Once the new products have been launched in the latter part of the year, Orrell says his team will switch focus to other soft fruit, high-value veg, and later, potatoes, cereals and arable crops.
MycoNourish was born out of Orrell's PhD and the fact that he and his team realised growers were buying unreliable products off the internet that were not specifically designed for horticulture. "We realised there was demand in the industry for improving soil biology, so we thought we've got a really strong scientific foundation and can make some improvements," he says.
The Dundee-based business, which is partially owned by James Hutton, has recently completed a £150,000 funding round led by Techstart Ventures, which adds to a £125,000 Higgs Award from Scottish EDGE. "The funding allows us to get to the point where we are able to have product ready to go on the market," Orrel says. "So it's allowed us to increase our team size; we have brought on additional scientists and technical members of staff, and that has really allowed us to do the core R&D that will lead to us releasing the product on the market."