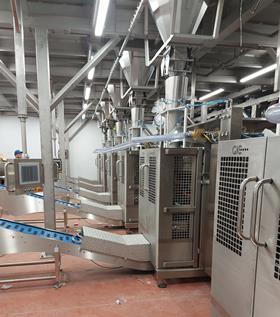 Natures Way Foods has become the largest single owner of GIC Leaf Salad Assisted Drop (LSAD) packing machines, the Sussex-based firm said.
The company, which is one of the UK's leading supplier of prepared salads, coleslaw, potato salad, and fresh food to go salad meals, took delivery of its 25th LSAD equipped machine from manufacturer GIC earlier this month.
Introduced by GIC in 2018, Leaf Salad Assisted Drop functionality helps to reduce product from becoming trapped in the seal, which can cause contamination. By creating an area of low pressure in the product chute, which draws salad leaves down into the bag in one single slug, Leaf Salad Assisted Drop eliminates upstream choking. Without the feature, the product mass often elongates into several clumps of salad leaf, which increases the chances of it being captured in the seal.
As well as preventing contamination, incorporating LSAD functionality increases packing efficiency and allows food companies to reduce film waste.

The GIC4100 with LSAD that Natures Way Foods uses can pack up to 60 packs per minute and accepts all suitable heat sealable materials, including laminates and polyethylene. The machine features a 10-inch operator-friendly HMI colour touch screen, the latest specification Allen Bradley Servo Drives, fabricated in full stainless steel, and a high care kit.

'We have seen the benefits of GIC's Leaf Salad Assisted Drop functionality first hand over the last couple of years,' says Tim Proudlove, operations director. 'Since using the salad specification GIC4100s, we have significantly reduced incidents of salad leaves becoming stuck in the seal and also reduced our film use, which is excellent.'

Established by the Langmead brothers in 1994, Natures Way Foods employs more than 1,200 people across four manufacturing units capable of producing over 238 million units and handling over 110,000 tonnes of finished product.

'Since we introduced our Leaf Salad Assisted Drop functionality, it has received a lot of attention,' says Andy Beal, GIC's managing director. 'Some of the biggest names in fresh produce feature our machines in their factories. We have been working with Natures Way Foods since 2009, and they've been a very loyal customer in that time, and we hope that our machines have played a role in their growth over the years.'

The 25th GIC4100 with LSAD functionality was part of a delivery of four machines by GIC, the twin-tube machine, was included as part of the order to suit the available space.

Based in Gainsborough, Lincolnshire, GIC was established more than 30 years ago and employs 25 people. The company manufactures an extensive range of vertical bagmakers, producing a wide range of finished bag sizes from 150 to 600mm wide in intermittent and continuous motion variants. All GIC machines offer low-cost ownership, robustness, reliability and exceptional build quality.

GIC's machines integrate seamlessly with upstream equipment such as multi-head weighers, cup fillers and counters. The company offering efficient and cost-effective after sales to all of its customers in fresh and frozen produce, cereals, snacks, confectionery, pasta, powders and pulses, industrial hardware and liquids.