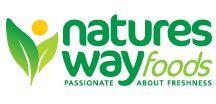 Leaders in the UK prepared-salads sector Natures Way Foods (NWF) is pivoting its business strategy to adapt to market challenges presented by coronavirus.
Chief commercial officer Ciara Whitehead told FPJ Live this week that NWF was resetting its food-to-go strategy since "covid has put a stop to that" and reassessing its sales channels as the pandemic has pushed consumers to shop more online.
The company, which specialises in supplying bagged salads, coleslaw bowls and salad meals to UK supermarkets and foodservice chains such as Pret-a-Manger and McDonalds, has been hit by the loss of the lunchtime market and move to 'scratch cooking' as much of the nation continues to work from home, as well as the rise in online shopping, Whitehead revealed.
"Covid has presented a challenge," she said. "The biggest challenge we face is the shift to online."
Whitehead said the company was shifting its focus to product shelf-life in order to be able access the online retail channel, as well as focusing on developing innovative and "relevant" meal solutions for consumers in this new covid climate.
Last month, NWF launched its first branded salad kit, Fling, at UK Tesco stores and hopes to roll out the product at more retail outlets soon, Whitehead told FPJ Live.
"With the introduction of Fling, we think we have met the consumers wish for taste, as well as convenience," she said. "Fling offers a complete meal solution with flavours from around the world."
The company is also continuing its steps to cut plastic use in an effort to become more sustainable – no mean feat when all its products are packed in plastic.
"We have made a commitment to reduce our plastic by 20 per cent over the next 12 months," said Whitehead. "With Tesco, we have already removed the lids from our salad and coleslaw bowls, which immediately reduced it by 10 per cent."
The West Sussex-based firm celebrated its 25th anniversary last year, she added, and its purpose to nourish the nation with fresh and healthy food has remained unchanged.
"We are all about making it easy for shoppers to access healthy products," she told FPJ Live. "We make sure everything we do is with the consumer in mind."
Enjoyed this free article from Fresh Produce Journal and its team of editors? Don't miss out on even more in-depth analysis, plus all the latest news from the fresh produce business. Subscribe now to theFresh Produce Journal.