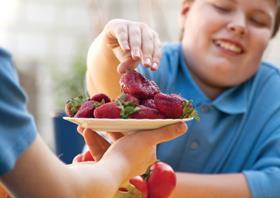 The government is cracking down on junk food advertising and promotions in a bid to slim down the nation's waistlines.
With almost two-thirds of adults in England classified as overweight or obese, and as many as a third of children leaving primary school in that category, the government's long-awaited Obesity Strategy is aiming to reduce the £6 billion burden that obesity-related illness causes to the NHS every year.
Experts believe overweight people face an increased risk of serious complications from Covid-19, making this week's announcement all the more timely. Nearly eight per cent of critically ill patients with Covid-19 in intensive care units have been morbidly obese, compared with just 2.9 per cent of the general population.
The new limits on junk food advertising sales come as part of measures to get the nation fitter and healthier, and will be seen as good news for the fresh produce industry, which will hope to benefit as the message gets through.
The plan - which focuses on adults as well as just children - is being launched alongside a new Better Health campaign, led by Public Health England, which will call on people to embrace a healthier lifestyle and to lose weight if they need to, supported by a range of evidence-based tools and apps providing advice on how to reduce the waistline.
Discounts on fruit and veg
Key elements of the plan include banning the advertising of food high in fat, sugar or salt (HFSS) on television and online before 9pm when children are most likely to see them. Ahead of this, the government will also hold a new short consultation on whether the ban on online adverts for HFSS should apply at all times of day.
It comes after analysis by Cancer Research UK from September 2019 showed that almost half (47.6 per cent) of all food adverts shown over the month on ITV1, Channel 4, Channel 5 and Sky 1 were for products high in fat, sugar and salt. This rises to almost 60 per cent during the 6-9pm slot.
Buy-one-get-one-free promotions of foods high in fat and sugar will also be restricted, and there will be a ban on these items being placed in prominent locations in stores, such as at checkouts and entrances, and online.
Crucially, shops will be encouraged to promote healthier choices and offer more discounts on food like fruit and vegetables.
In foodservice, new laws will require large restaurants, cafes and takeaways with more than 250 employees to add calorie labels to the food they sell, which the government said would empower people to make healthier, informed choices as part of a balanced diet.
Other measures announced include alcohol calorie labelling, wider NHS weight management services and a consultation over front-of-pack nutritional labelling.
Prime minister Boris Johnson, whose stance against unhealthy eating has been enhanced following his stint in intensive care with Covid-19, said: 'Losing weight is hard but with some small changes we can all feel fitter and healthier. If we all do our bit, we can reduce our health risks and protect ourselves against coronavirus – as well as taking pressure off the NHS.'
Health secretary Matt Hancock said: 'Everyone knows how hard losing weight can be so we are taking bold action to help everyone who needs it. When you're shopping for your family or out with friends, it's only fair that you are given the right information about the food you're eating to help people to make good decisions.
'To help support people we need to reduce unhelpful influences like promotions and adverts that affect what you buy and what you eat. Taken together, supported by an inspiring campaign and new smart tools, will get the country eating healthily and losing the pounds.
'We know obesity increases the risk of serious illness and death from coronavirus - so it's vital we take action on obesity to protect the NHS and improve our nation's health.'