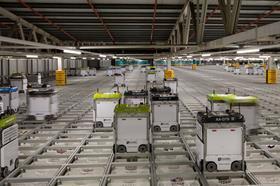 Ocado has invested £17 million in the vertical farming industry in a bid to shorten the supply chain and boost freshness for consumers.
The online retailer announced a joint venture with vertical farming company 80 Acres Farms and Priva Holding, creating a new company dubbed Infinite Acres, in which each business owns a third equity each, according to Reuters.
Ocado also acquired a 58 per cent in the Scarborough-based Jones Food Company, Europe's largest operating vertical farm, growing a range of herbs and leafy salads, with its capacity expected to grow to 420 tonnes a year.
Priva is a Dutch company that provides a range of products and systems to the horticulture industry while 80 Acres us a US-based plant science firm.
"We foresee a day where customers' vegetables are harvested hours before they are packed, meters from where they are shipped," Ocado said in a statement.