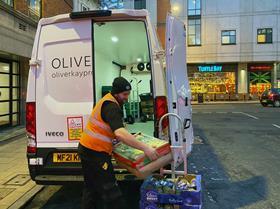 Oliver Kay Produce is expanding its product range and delivery network, the catering supplier has announced.
The business said it is gearing up to meet increased customer demand for fresh produce and premium ingredients, as operators expect the eating-out-of-home market to become increasingly competitive in 2022.
As well as fresh fruit and vegetables, Oliver Kay customers – which include pubs, restaurants, hotels and the UK catering industry – will be able to order from an increased range of chilled products, including plant-based options.
There will also be a broader range of fresh meat and a selection of fish, as Oliver Kay draws on the expertise of the other national suppliers in the Bidfresh group, to which it belongs, namely Direct Seafoods and catering butcher Campbell Brothers.
The business has also added a third warehouse in Wolverhampton, to complement its existing sites in Bradford and Hoddesdon (Hertfordshire). These sites sit alongside existing logistics depots in Salisbury (Wiltshire) and Chepstow (Monmouthshire), enabling customer orders to be consolidated at their local depot and delivered nationwide.
Paul Smith, head of sales at Oliver Kay Produce, said: 'Our depots and drivers are now moving even closer to our customers, thanks to our expanding network. That's important when you're dealing with fresh, premium produce that needs to be on menus, specials boards and plates as quickly as possible.'
He added that the supplier's expanded product range will enable chefs to "plan menus, consolidate orders and ensure they receive everything they need in one, timely delivery", thereby reducing the carbon footprint of deliveries.
'It's increasingly clear that 2022 will be an even more challenging year for the sector," he said. "There will be consumers looking for value for money, but also those looking for premium, memorable menus to get the most from their eating out spend."