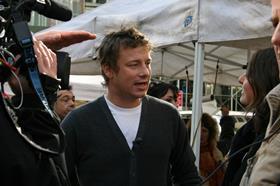 Celebrity chef Jamie Oliver has succeeded in persuading top four retailer Asda to launch its first-ever range of wonky fruit and vegetables.
As part of his new Channel 4 series with Jimmy Doherty, named Jamie and Jimmy's Friday Night Feast, Oliver met growers who said that significant amounts of their fresh vegetables aren't being sold in fresh formats, because they are wonky or 'ugly'.
The pair then approached Asda to suggest an in-store trial to test consumers' perceptions of wonky produce, and whether they would be willing to buy it at a discount.
The new range, entitled 'beautiful on the inside', launches across five stores on 26 January, and hopes to target families through giving bags of oddly-formed produce cartoon character names.
Products including Carlos Citrus, Paul Potato and Suzie Swede will be sold in separate bags and at a discounted price.
The specifications for the new range allow up to 20 per cent more of a citrus crop to be used, 15 per cent more swede and 10 per cent more potatoes, Asda said.
The UK's second-largest supermarket also said it is the first time it has sold wonky fruit and vegetables as a separate fixture, and said it aims to increase customer awareness and educate shoppers on the 'beauty of buying ugly'.
Asda produce technical director, Ian Harrison, said the campaign hopes to make 'ugly' food more accessible for shoppers and families.
"The first step in this project was to look at how we could extend use by dates on produce. This can be a big cause of waste in customers' homes due to confusion over when produce needs to be used by," he said.
The retailer said its new campaign is supported by a recent consumer survey that found that two thirds of shoppers (65 per cent) would buy misshapen fruit or vegetables if they were good quality, while three quarters (75 per cent) said lower prices would be the biggest incentive in doing so.
Harrison added: "Our 'Beautiful On The Inside' range, which would have either gone to waste or been used for further processing, will now be celebrated for its freshness, value and quality in stores.
"This campaign is the latest in a series of initiatives by us to show our commitment as a business to help reduce waste throughout our supply chain and in our shopper's homes.
"We hope customers get behind our wonky fruit and veg campaign and if it's a success, there could be an opportunity to expand the trial across other fresh produce lines, offering customers more choice and value with the wonky range."
Jamie and Jimmy's Friday Night Feast airs tonight (2 January) on Channel 4.