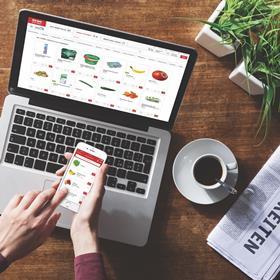 A new report has highlighted the growing competition of online grocery delivery companies in the UK, particularly since the start of the Covid-19 pandemic last year.
The report, released by Fitch Solutions Country Risk & Industry Research, suggested that key drivers for this rise included growing demand for convenience, catering to impulse buys and an expanding consumer base.
'These companies are located in large urban areas and are able to offer grocery delivery services within a timeframe of 10-15 minutes,' the report stated. 'This is largely done by using a network of their own fulfillment centres located strategically across cities.'
Fitch Solutions said it believed that there was potential for on-demand grocery services to continue to expand and develop, with consumers becoming more accustomed to using online grocery delivery services.
It was forecasting growth in the segment, by an average annual rate of 3 per cent year-on-year over the medium term (2021-2025), reaching a total value of £129.3bn (US$200.4bn) by 2025.
'We note that there is potential for on-demand delivery services to continue to expand, especially to more cities,' the report outlined. 'The vast majority are currently located only in London and only cater to specific neighbourhoods where they have fulfillment centres.
'In addition to this, we also highlight the increasing number of start-ups, which suggest the potential for acquisitions from mass grocery retailers or tech companies to take place in the short to medium-term.'